Hutton Rudby Tennis Club, North Yorkshire
"We are very satisfied with the 5 synthetic courts that STM laid. You were competitive in your quotation and completed the contract on time and in accordance with specifications. The club are very pleased with the resulting surface which plays very well. We would recommend STM to anyone who is looking to have synthetic tennis courts laid".
-John Kitson, Treasurer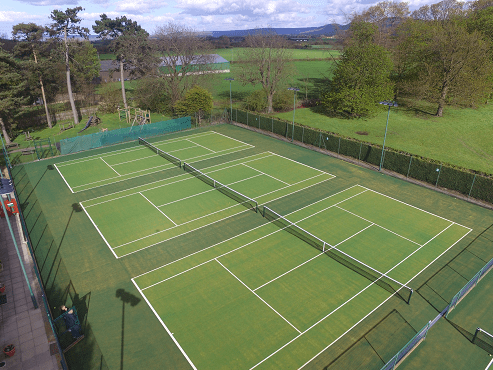 Twickenham Stadium, London
"We have been working with Synthetic Turf Management over 3 years. They are responsible for all the synthetic turf logos and branding around the Twickenham Stadium including the England Rugby Football Union Logo and the 02 logos. It's great to deal with a company who delivers a consistent professional service always on time."
– Head Groundsman, Twickenham.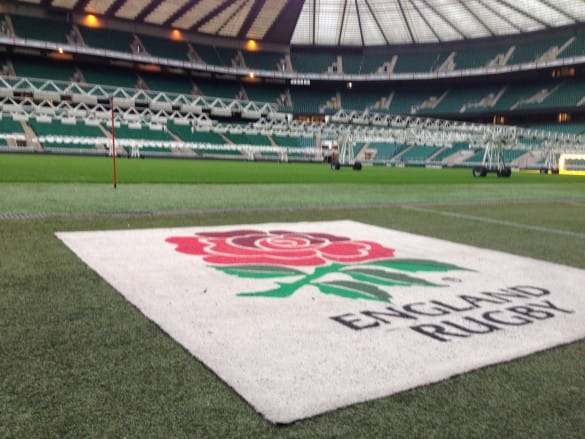 Harrogate Spa Tennis Centre
"When I inspected the courts afterwards they were looking in fine condition (after the maintenance), so thank you for that. Well done for getting the tractor in and out!… For our part I definitely want to continue the process under the current terms… I would like to ensure that we have a follow up in Autumn"
– Nigel Bentley, Chairman, HSTC Ltd.
Boroughbridge Tennis Club
"The new surface has transformed the Club, probably the best courts in the area and often commented on . STM's professionalism not only in the installation of the courts but the ongoing service and maintenance has been exemplary, their timely reminders and thoroughness of the maintainance do them credit. Well done".
- Ian Andrews, Club Chairman
Brighton Prep College
2015: "Your team were and are amazing. It was a privilege having them do such a brilliant job for us. Thank you STM so much"
2016: "STM have done us proud once again! Their team came in to transform our old tarmac playground into a magnificent green space in less than 3 days. I couldn't recommend them more highly"
– Harry Hastings, Headmaster of the Prep School Brighton College
Northfield School and Sports College, Billingham
"Northfield School and Sports College is the proud recipient of an excellent multi use games area (MUGA). The transformation was completed by Synthetic Turf Management (STM). Representative's from STM and Northfield School met and discussed the best options available to us in terms of design of the MUGA, and the type of surface available for school and community use. The result is a floodlit facility consisting of a 9v9 football pitch, two 5v5 football pitches, four tennis courts, three netball courts, a 60M running track, and an integrated long jump pit. STM are a professional organisation that offer in depth advice with regard to synthetic surfaces to suit all levels of play, from schools, community use, and professional teams. Our experience of working with the team at STM was very positive and would recommend them to other organisations"
– Craig Farnaby, Sports Drome Manager.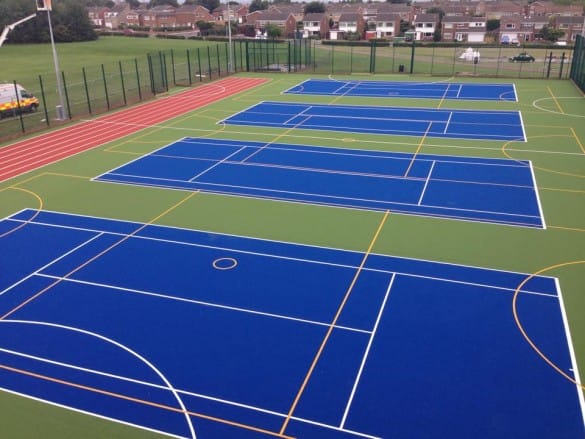 Bookwell Primary School
"From start to finish STM have been excellent to deal with and helped me enormously from the beginning of my project to the final competition. Any questions I have had have always been dealt with quickly and STM have always done exactly what they said they were going to do. I have found the company to be very honest and clear in everything they have told me. I am so happy I used STM as the MUGA looks absolutely fantastic, the attention to detail was impressive and it will make a huge difference to our school. I would have absolutely no reservations in recommending this company".
– Russell Hardy, Headteacher at Bookwell Primary
Colebourne Primary School
"STM are a professional well organised company who can take you project from concept to completion. They listen to your needs, provide solutions for your requirements and advise you at every stage of your project. The precision, attention to detail and onward maintenance is outstanding. They are self managed on site and very efficient. Our project has not only benefited the school but the community too, we have regular children and adult teams use the pitch in the evening because the facility is that good! I have already recommended STM to a number of schools and I will continue to do so. You won't be disappointed. Thanks STM"
– Samantha Hughes, Colebourne Primary School
Calthorpe Specialist Sport College, Birmingham
"Synthetic Turf Management transformed a dark and uninviting area into a stimulating and exciting environment for our nursery aged autistic group. On its first day of use the youngsters, without encouragement, immediately took off their shoes, they rolled and excitedly explored the environment. A brilliant transformation."
– Graham Hardy, Calthorpe Specialist Sports College, Birmingham
Handale Primary School, Cleveland and Redcar
"Prior to installation the playground was dull, uneven and dangerous. Children did play football on it but we were always dealing with grazed knees and if it rained water collected in the dips. We now have a really attractive multi-purpose area, which the children love. It is used every day in a range of ways keeping all personalities happy. Sporty children are constantly active and those who wish to, can sit quietly talking to friends. Children, staff and parents are all delighted with the new surface."
– Mrs Buckley, Headteacher, Handale Primary school, Cleveland and Redcar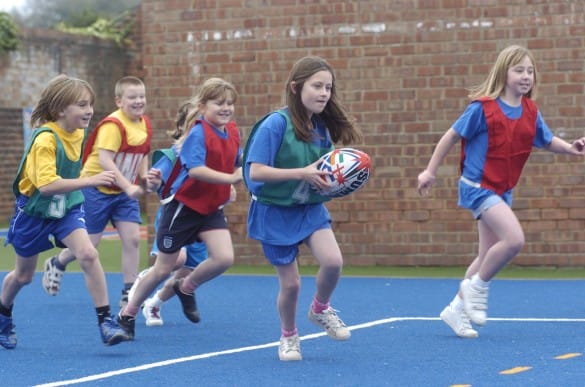 St George's Church of England Primary School, Birmingham
"For the first time ever, St George's has a playing surface that is marked out and accessible. It has made a huge impact on the way we are able to plan for and deliver the P.E. curriculum as well as being a great success with all our children."
– Mrs Edwards, Headteacher, St George's Church of England Primary School, Birmingham
Greenfields Community Primary School
"We had STM EPIC laid by Synthetic Turf Management on a large Key Stage 1 playground in February of the this year. The work was completed to a very high standard and we are delighted wit the results. Synthetic Turf Management have kept to all of their deadlines and have acted in a friendly, efficient and professional manner from the planning stage through to the completion of the work. We were kept informed of developments at every stage and when on site the work progressed quickly due to the work ethos of the staff, often staying late and ensuring that the project came in on time. The children are delighted with the results and the teachers have commented on the difference it has made to the behaviour at break and lunch. Many teachers are also using the markings within lessons to support curriculum."
– Lynda Phillips, Headteacher, Greenfields Community Primary School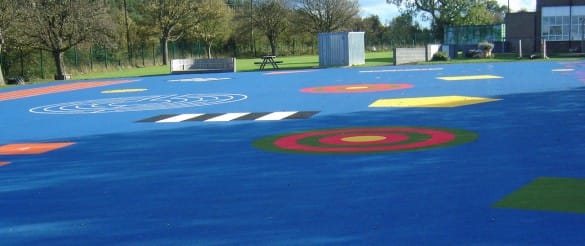 Futsal Club UK
"Just like to say a special thank you to all the exhibitors for attending the show Jon from STM a very hard working guy who has excellent products. Look forward to your company at our show next year."
– Paul Holmes Director Futsal Club UK
Coleraine Park Primary School
"Coleraine Park Primary has recently had a Tiger Turf installation on its main playground. We are very happy with the surface in terms of it providing a better playing area, a safer environment and brightening the school environment. An unexpected benefit has been what we consider to be a reduction in the level of noise at play and lunchtimes. This has been commented on by a number of staff including those who may be working during lunchtime in rooms adjacent to the playground. Firstly, I believe that the turf dampens the sound of balls bouncing (previously we had a rather unforgiving concrete surface) and the noise of children running. Additionally, the playground seems quieter possibly because children are enjoying the surface so much that their games are calmer."
– Richard Vowles, Coleraine Park Primary School, Tottenham, London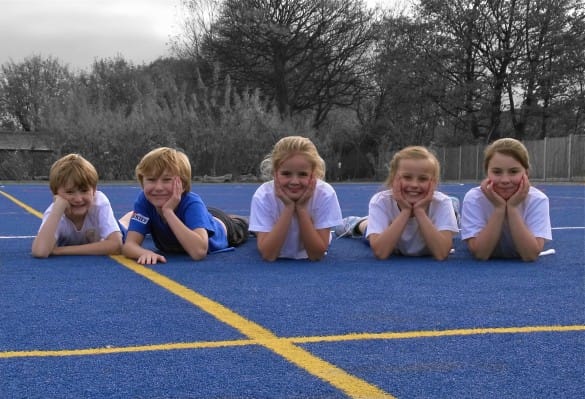 Cullercoats Primary School
"The children are absolutely astounded by the new surface. They have been running up and down on the track and just can't wait to get out and play whatever the weather."
– Mr. Kevin Youldon, Cullercoats Primary School
"STM installed a Tiger Turf sports surface onto our play yard 7 years ago. Needless to say, the product was excellent: it is a vibrant, safe surface, used not only for sport but for play times as well. The skills of our hockey players particularly have improved dramatically as a result, to the extent that we are finalists in the North Regional Competition and at Leeds in March. I feel that the impact that the surface had had on the school has been profound: prospective parents when visiting are most complementary and as a result the popularity of our school has improved considerably. Perhaps the most notable characteristic is the longevity of the product. Despite in being used for a number of years and the heavy use it has had to cope with, the surface still looks as good as new : no fading and very little damage from little feet. I recommend this productunreservedly".
-Mr Kevin Youldon, 7 years on.
John Randall Primary School
"It is fantastic that we now have the opportunity to go give our children a safe, stimulating and creative environment in which to play. We have made many improvements to the inside of our school and now we will be able to use the outside area with as much enthusiasm to help deliver the curriculum."
– Head teacher, Mrs. Helen Middleton, John Randall Primary School
Wyndcliffe Primary School
"We have been working with Synthetic Turf Management since 2008 transforming various surfaces into brightly coloured safe play areas which makes it attractive for the children. It is somewhere they want to play. These areas are now in constant use and the mud that the children would pick up on their shoes is now gone. A clean school! Our most recent project is our Reception playground. The STM management team helped to plan and designed the area. STM listened to what we wanted and then delivered a vibrant area, which supports our EYFS curriculum. We have had a road, signs, games and shapes inserted into the overall design. Nothing is too much trouble and the finished area is fantastic."
– Mrs Jan Gamsby, Head Teacher, Wyndcliffe Primary School, Birmingham