STM's Key Services:
Consultation and artificial grass cost estimation
Design of the synthetic turf surface to meet unique demands such as size and purpose
Planning advice and support throughout the project and afterwards
Funding advice and support for grant applications
Ongoing maintenance packages and resurfacing options
A variety of optional extras, such as fencing & lighting, seating & shelters, play equipment
STM's 4 Core Divisions:
Sport
Education
Landscaping
Commercial
STM's Design & Installation Range:
Sports courts & pitches
Multi-Use Games Areas (MUGA's)
Playgrounds in nursery, primary, secondary and SEN schools
Landscape projects: domestic and commercial
Commercial: logo mats, branding and exhibitions
STM's Guidelines and Health & Safety:
STM follow industry and Sport England guidelines to ensure all of our synthetic turf designs and construction methods meet the highest level. We hand selected proven synthetic turf products from shock pad for artificial surface systems, fencing and floodlights.
We are a professional company with clear guidelines on health and safety, quality control and customer satisfaction.
Some of the Team:
Jon Bell: Managing Director of Synthetic Turf Management, qualified teacher and synthetic turf industry specialist. Jon is very well known and respected in the synthetic surface industry and has works alongside worldwide names such as Tiger Turf. Jon's knowledge spans far and wide and, what's more, he really cares about each and every project he works on. From SEN schools to sports clubs, Jon has a stellar reputation in the synthetic turf industry, and is renowned for his expertise and passion when it comes to artificial grass.
Dave Peacock: Project Engineer, Dave Peacock, has managed and delivered projects across Europe, Scandinavia and Australia. Dave's attention to the finest of details has made Synthetic Turf Management one of the most respected synthetic turf installation companies in the UK.
Both Directors are recognised within the construction, sport and education industries, harbouring extensive experience in working with national associations and global companies to deliver first class projects.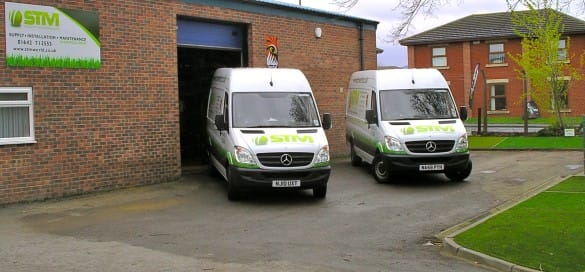 Team Spirit:
STM takes pride in creating a company ethos that develops the individual within a supportive team environment. We follow government apprenticeship schemes and all of our installers undertake NVQ level 2 qualifications with ongoing internal and external assessments.
We have provided specialised training for staff, spending winter periods in Australia to develop specific training on base construction techniques and the turf installation of Tennis Courts.