On Friday, primary school pupils at this Oxted School saw their brand new multi-use games area for the first time and spent their playtime exploring. For the past few weeks, STM have completely transformed the school field into an artificial grass area to be used by everyone! And they loved it!
Artificial Grass MUGA Build- November-December 2017
The primary school is located in Oxted, a district of Surrey. And they came to STM looking for a sport solution to make use of the space they had. An artificial grass MUGA was recommended and the full build process was well underway in November. 1500 square metres of our artificial grass was designed, cut, fitted and installed in a way that would allow the children to play different sports on just one surface. The project was finished last week, and the school so kindly offered STM the opportunity to see the children's reactions to the new MUGA.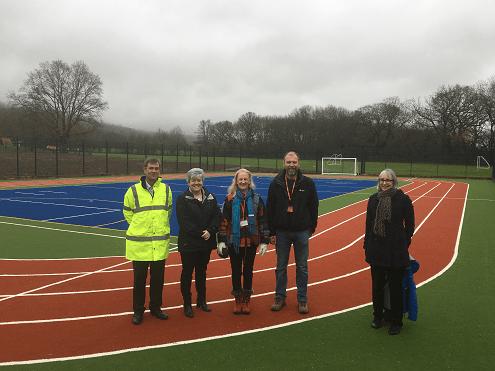 Signing off the project with the school staff on Tuesday
The MUGA was installed on top of a 5mm rubber sports pad to create a softer surface. This is laid on a sub base that was created with sub soil drainage. This means that through wintry and wet weather, the surface will drain easily.
As artificial grass specialists, STM will always recommend the most cost-effective and convenient solution in all our projects. We want to promote healthy and active lifestyles for everyone and we do this through encouraging participation in sport, especially in primary schools. Seeing the field for the first time, we realised it had so much potential and it paid off in the end.
The Grand Opening 8th December 2017
Our team of installers welcomed pupils onto the surface on Friday and it was full of joy, laughter, excitement and eagerness! The school were delighted with the work that we carried out and our Installation Director commented, "It was fantastic to see the pupils seeing the MUGA for the first time. It was clear that our hard work will make a real difference to the school".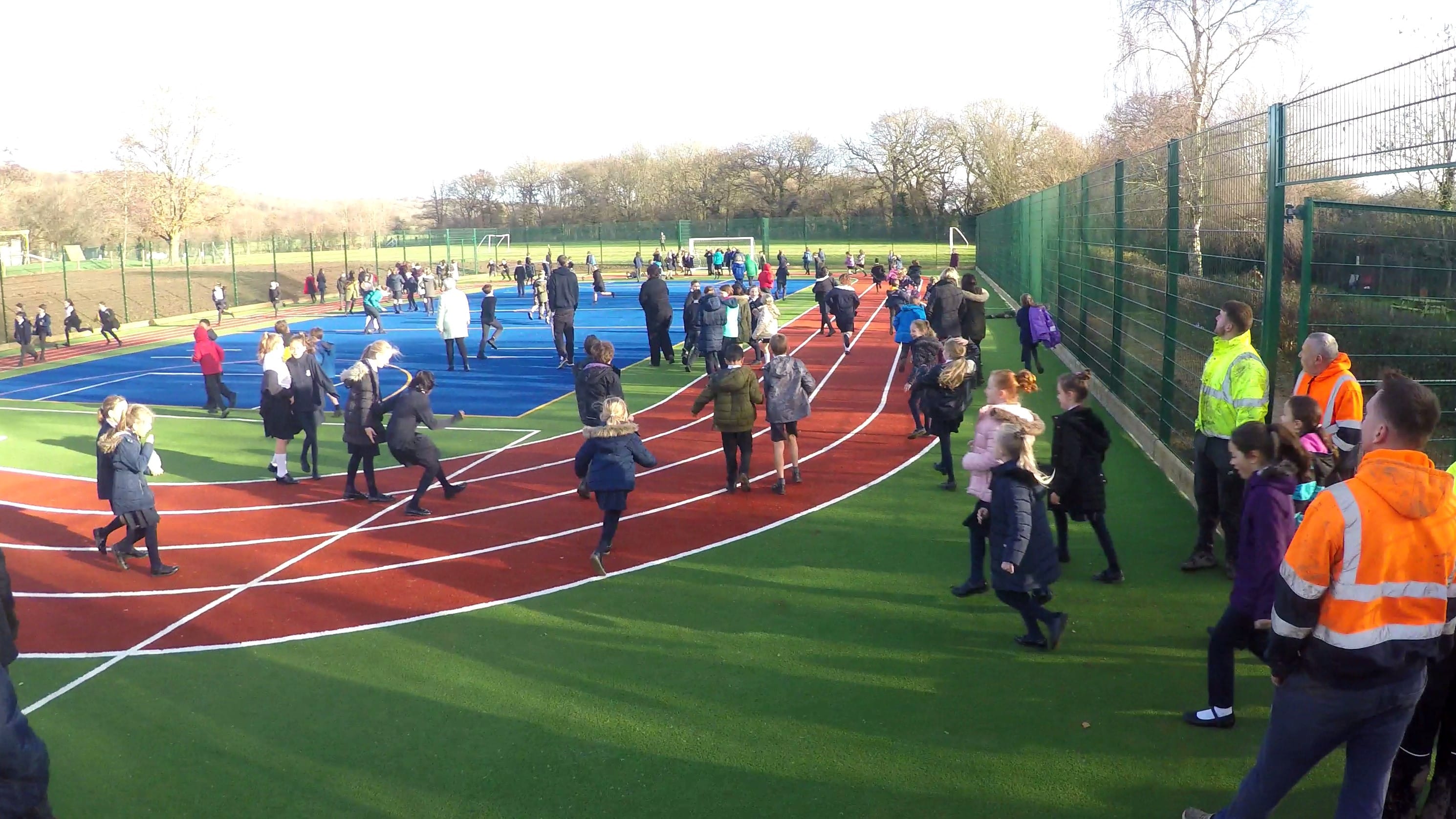 Pupils entering the enclosed MUGA through the new fencing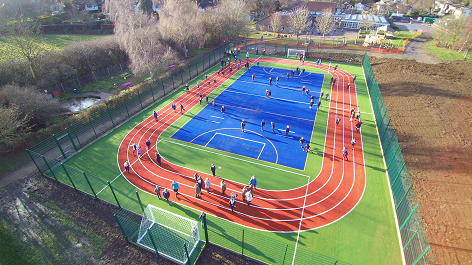 Drone view of artificial turf MUGA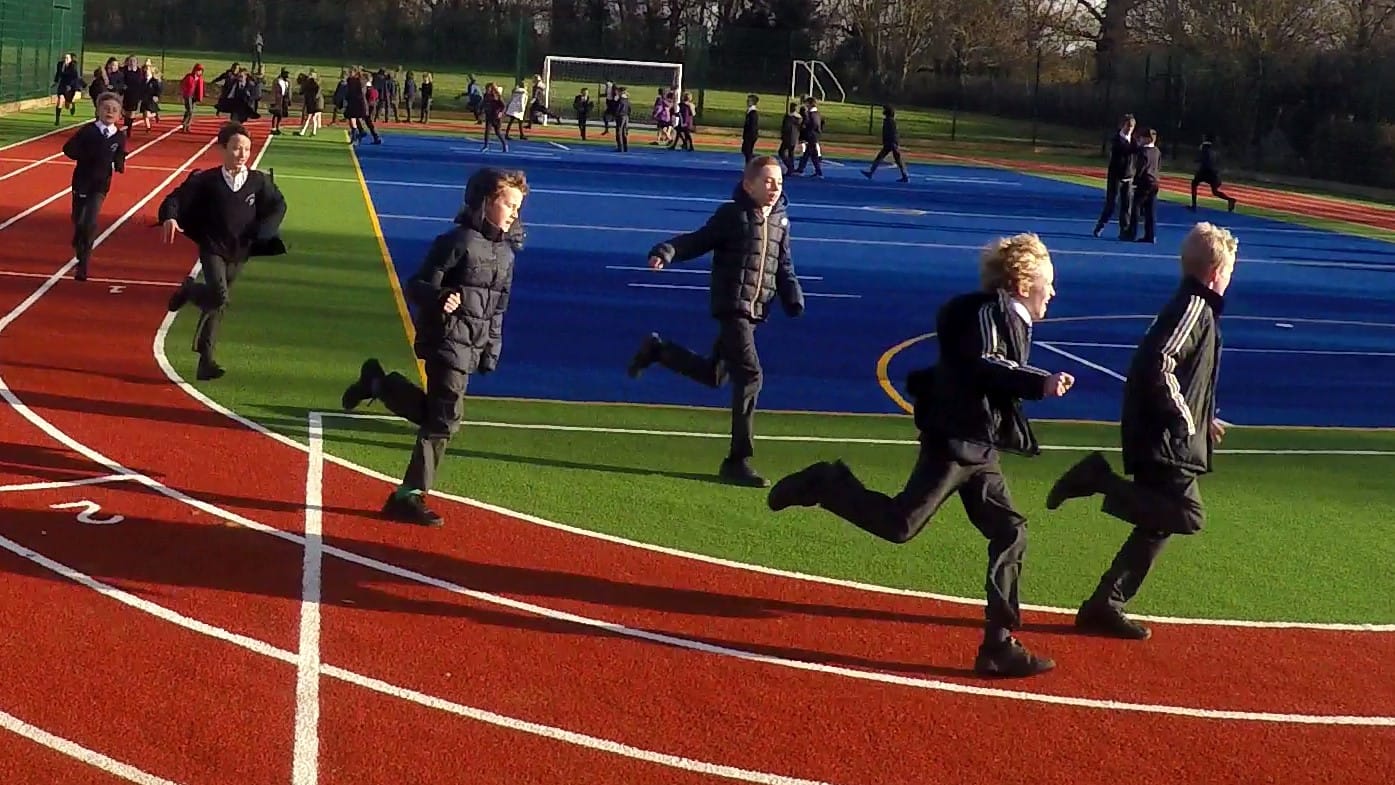 The children using the running track on the Grand Opening 2017.
Headteacher Sarah Lewis commented, "We are delighted with the MUGA - and so are the children".
Interested in knowing how we completed the installation? Read our blog on how we installed the project.