When Thornhill Primary School in Shildon, County Durham, approached STM wanting to brighten up their existing tarmac playground and create a more safe and usable surface, we were more than happy to oblige. Just this week we have completed a huge multi-sport artificial grass MUGA for the primary school and the result looks astonishing!
This isn't the first time we have done work for the primary school. In 2016 we created a trim trail artificial surface and the school was so happy with the install that they contracted us for their new playground.
Multi-sport artificial grass overlays are more common at STM than ever before. This is a process by which we keep the existing tarmac playground, possibly restore it to a better condition (which can include patching up the base) and then lay artificial grass over the top of the surface. This can include a whole bunch of different designs including running tracks, football, tennis, basketball and netball markings.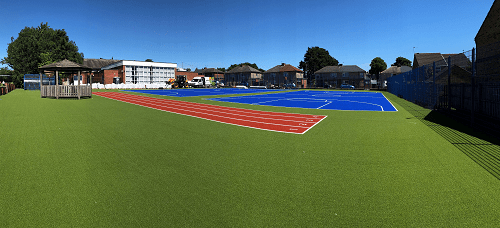 The artificial grass MUGA overlay complete June 2018
The artificial grass surface consisted of a running track and long jump pit with a rust track run-up and green surround. 2030 square metres of our super safe play turf was used on top of a 5mm rubber pad underlay which helps to soften the surface.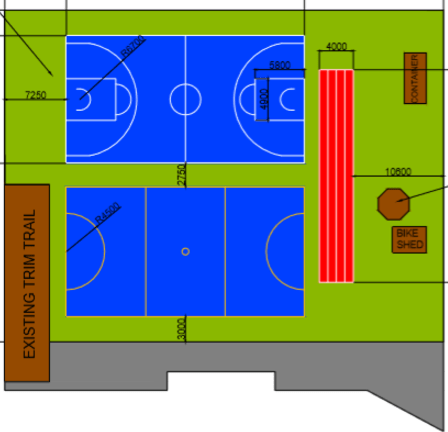 The initial design for the surface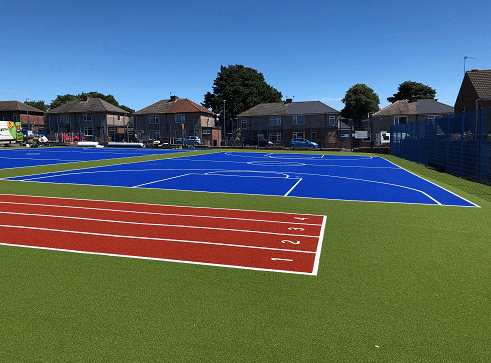 Another install we are proud to put our mark on. A big thanks to the STM team who battled severely windy weather and came up with this fantastic project in the end!
For more information on multi-sport artificial grass overlays, contact us today on 01642 713 555 or fill in the form here.