IS PHONICS IMPORTANT IN EDUCATION? BE EPIC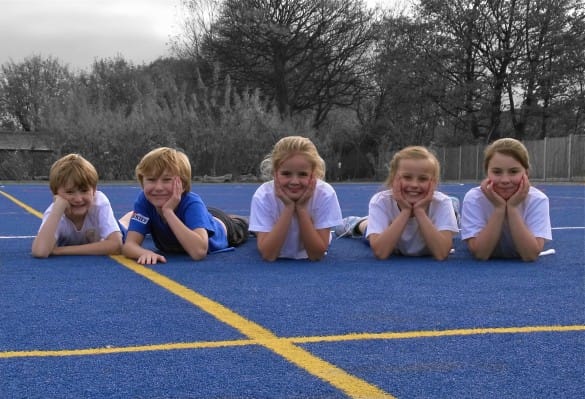 Synthetic Turf Management introducing phonics colours and sounds into Multi Use Games Areas and in Safe Play EPIC Surfaces.
Literacy skills are essential to attainment in school and to fulfilling potential opportunities throughout life. The standard of teaching of literacy in primary schools around the country is better than ever. Schools are delivering lessons, which are rigorous, creative and innovative, and as a result children are motivated and learning takes place in abundance and that is why at STM we developed EPIC. However, the challenges persist, with one in five children failing to achieve the expected level at Key Stage 2 in 2011. According to a National Literacy Trust survey, children's reading frequency is also in decline. Alongside this, the policy landscape is changing significantly. The new draft curriculum for English (2012) includes a strong emphasis on the teaching of systematic synthetic phonics, as well as a renewed focus on spelling, grammar and punctuation (SPG). The current cohort of Year 6 pupils will be the first to experience the new Key Stage 2 writing testing arrangements and the SPG test in May 2013. During inspections, Ofsted will be looking for effective whole school literacy policies and their successful implementation in schools. Finally, the new Teachers' Standards (2012) require for all teachers to "demonstrate an understanding of and take responsibility for promoting high standards of literacy, articulacy and the correct use of standard English.
DO YOU USE PHONICS IN YOUR OUTDOOR PLAY SURFACES? WHY NOT?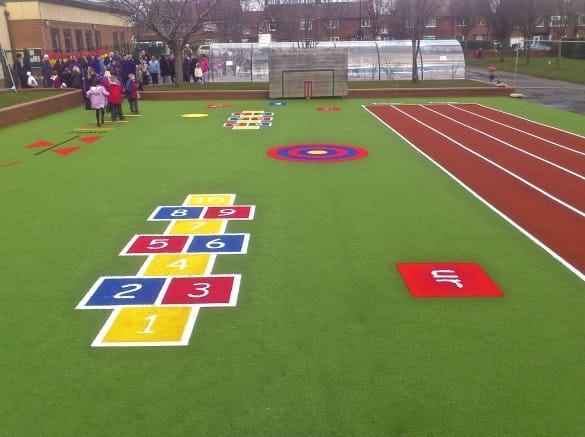 STM incorporate Phonics in to safe Play Surfaces and MUGA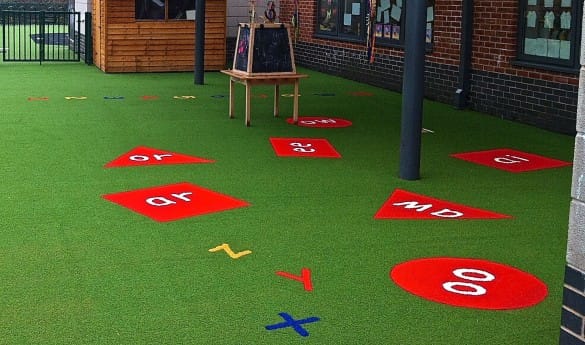 Synthetic Turf Management introducing Phonics and Shapes into Primary Education safe play surfaces
According to a National Literacy Trust independent survey:
Headline statistics:
84% of Key Stage 2 pupils achieved level 4 in reading in 2011
85% of Key Stage 1 pupils achieved level 2 in reading in 2011
In the last nine years, England has fallen in PISA's international tables from 7th to 25th in reading.
Rose (2006), Independent Review of the Teaching of Early Reading:
Although high quality systematic phonic work should be taught discretely it should be set within a broad and rich language curriculum.
The simple view of reading takes full account of word recognition and language comprehension as distinct processes related one to the other.
Ofsted (2010), Reading by six: Excellence in reading is characterised by:
establishing phonic knowledge and skills and their application through reading, writing and comprehension of what they're reading
broadening and extending the range and quality of reading
enhancing the teaching of reading by its application across the wider curriculum.
UKLA (2010), Teaching Reading: What the evidence says: Classrooms where children are taught to read most effectively show:
a balanced approach in which word recognition skills are matched by attention to comprehension
attention to individual children's literacy skills, experience and interests high levels of engagement with reading.
What does Government policy say?

Department for Education (2012), Teachers' Standards: "...if teaching early reading, [a teacher must] demonstrate a clear understanding of systematic synthetic phonics. Department for Education focus: "High-quality international evidence has proved that systematic teaching of synthetic phonics is the best way to drive up standards in reading. Taught as part of a language rich curriculum, systematic synthetic phonics allows problems to be identified early and rectified before it is too late." (Nick Gibb, Minister for Schools, 2011) Literacy Guide for Primary Schools: 2012/2013 Ofsted (2012), Inspection Framework:
Inspections will consider:
the level of attainment and standards at the end of Key Stage 1 in reading
how well schools develop a range of reading skills and how well these are applied across the curriculum
how well teaching enables pupils to develop skills in reading.
Inspectors should take account of:
listening to pupils read and checking on their rate of progress to assess their standard of, and progress in, reading with a particular focus on weaker readers
standards in reading for six-year-olds as indicated by the most recent phonic screening check and any follow up screening undertaken by the school.
*Source: • Literacy Guide for Primary Schools: 2012/2013 • Department of Education
STM are proud introduced "Phonics-4-Play" as part of our exclusive EPIC surfaces in partnership with Tiger Turf.
Synthetic Turf Management has been developing unique individualise MUGA's (Multi Use Games Areas) and Safe Play Surfaces with more than 20 years experience.
"We at STM understand the need to create Multi Use Games Areas and Safe Play surfaces, not only to develop the physical skills, but also to stimulate participation in out doors activities, social skills development and continued out door education." – MD Jon Bell (BA Hon Cert Ed).

EPIC - (Education and Play in Colour) - Exclusive to STM
Schools have seen improved OFSTED reports, reduction in playground accidents, teachers wanting to teach outdoors and improvements in playtime behaviour due to increased levels of participation and the all weather usability of the surfaces. STM has exciting products & playground solutions, which will bring old gritty, muddy and water logged surfaces to "EPIC" (Education and Play in Colour) with colourful, imaginative playgrounds, safe play areas based on individual unique requirements across the UK.
We can now offer various colours, shapes, phonics incorporated into Multi Use Games Area of Safe Play Surface.
What can Synthetic Turf Management offer your school? •
FREE surface review.
FREE Consultation
FREE Design
FREE Quote
Professional Installations on any surface
Maintenance Agreements How can we help you?
Please contact Jon Bell 01642 713 555 or visit our website www.stmworld.co.uk
Did you know you can design you own MUGA (Multi Use Games Area) and Safe Play Surface with our pitch builder?