We're in our Stokesley offices today and looking out of the window at the cold, wet weather! March always seems to be the worst month for rain! Fortunately we are indoors but what about your school?
Are the children having to miss their outdoor learning because of the weather? Are PE sessions having to be moved indoors? This can cause all sorts of problems for teaching timetables and it is impossible being proactive in this British Weather!
What if we could tell you that your pupils could play outside all year round? No mud, no mess, no slipping over.
Our safe playgrounds do just that!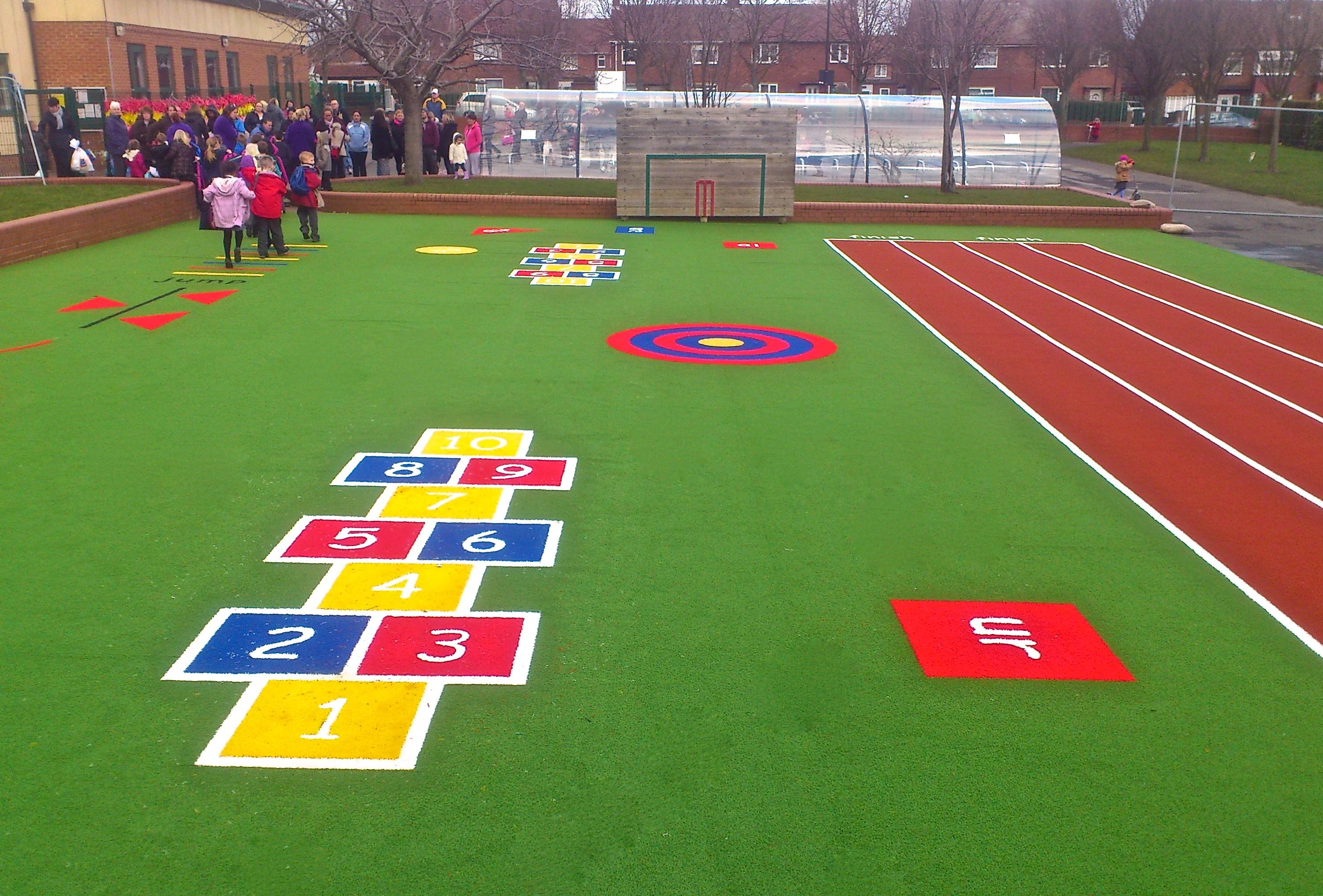 EPIC (Education and Play in Colour) Playground
Safe Playgrounds
Our EPIC (Education and Play in Colour) surfaces are very popular in schools all over the UK and our bespoke designs mean that you can decide what you think will best benefit your children. Our safe playgrounds, really are what they say on the tin. We can provide shock pads and trip free edging to ensure students have a soft landing and no obstacles are in the way of playtime.
When we were younger we didn't have the luxury of artificial turf safe playground surfaces, cold concrete flooring was virtually the only option and we can only reminisce on the queue of students outside of the first aid office of students who had grazed their knees and elbows on the hard crumbly surface.
Play Ideas
All day children spend 4,5 or even 6 lessons indoors, and we are sure everyone knows the importance of outdoors to children for at least some of the day. Safe playground surfaces allow students to explore the outdoor world, let off some steam, socialise with their friends and then come back to lesson refreshed and ready to go.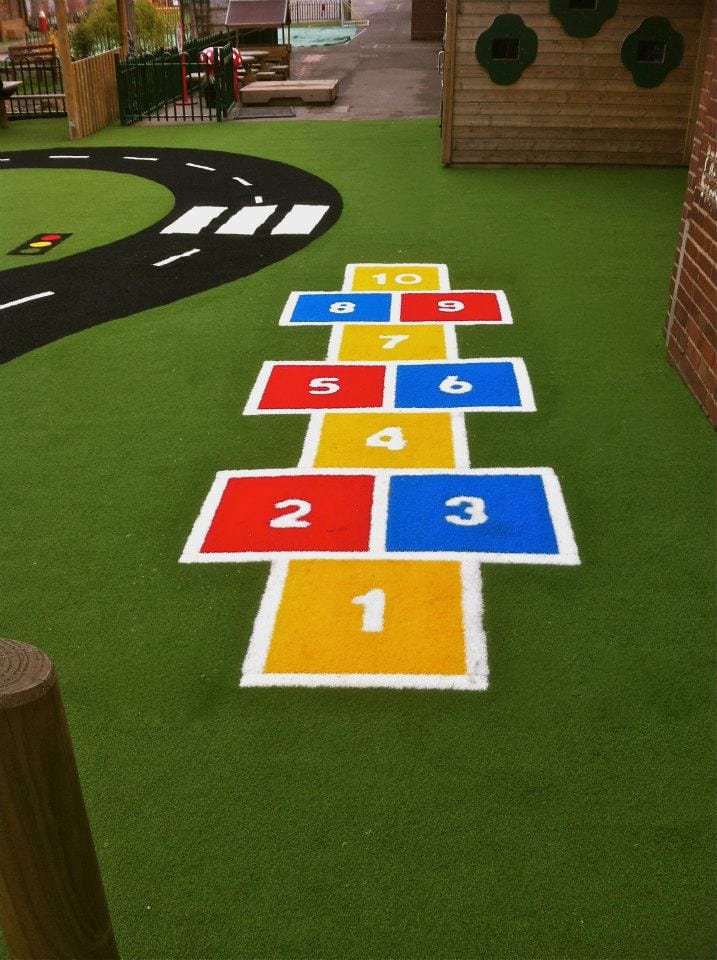 Hopscotches are a fun addition to the safe playground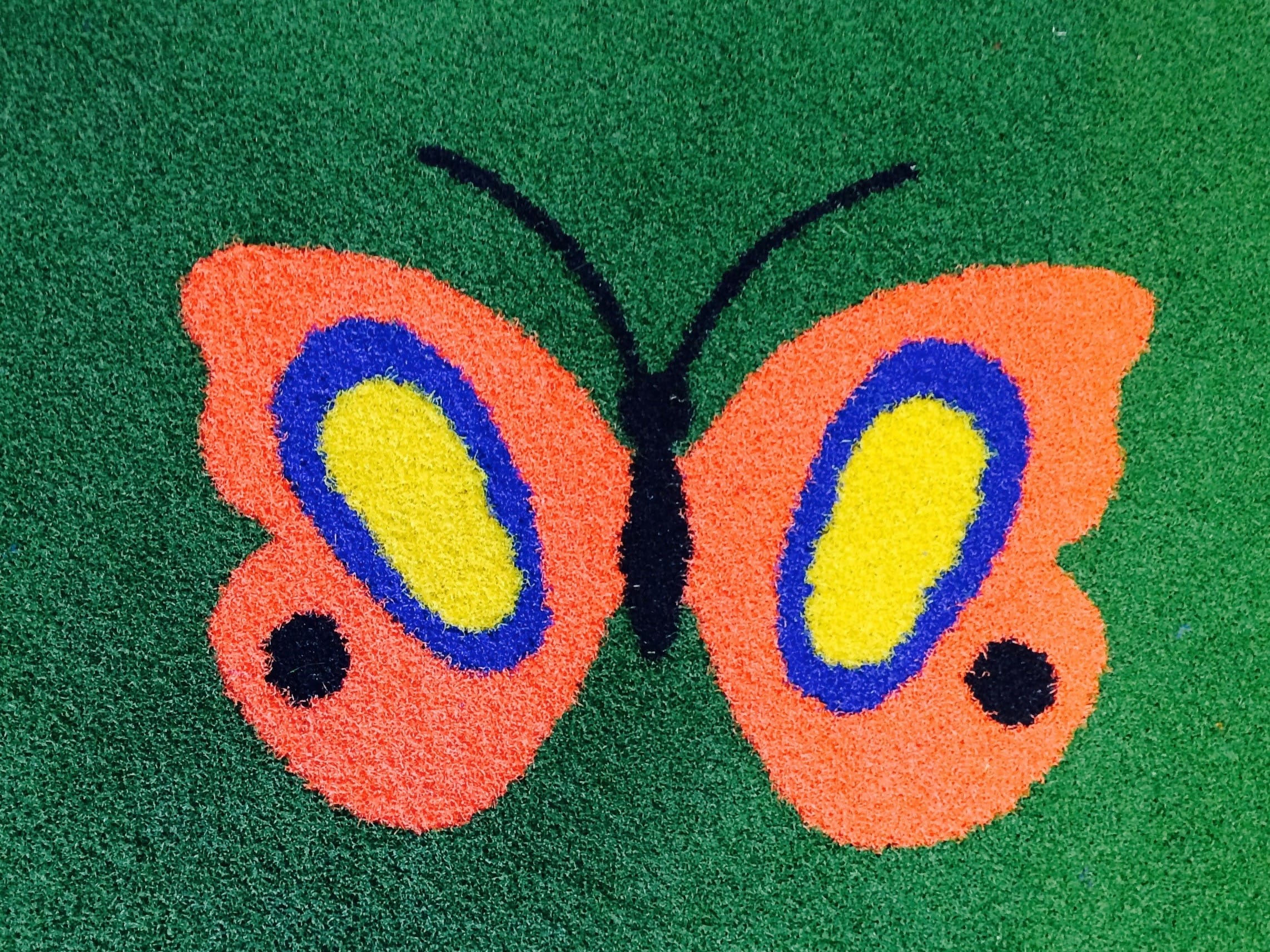 Butterflies can add a curiosity to children's mind in nature and help with other lessons such as science or even art for creative skills.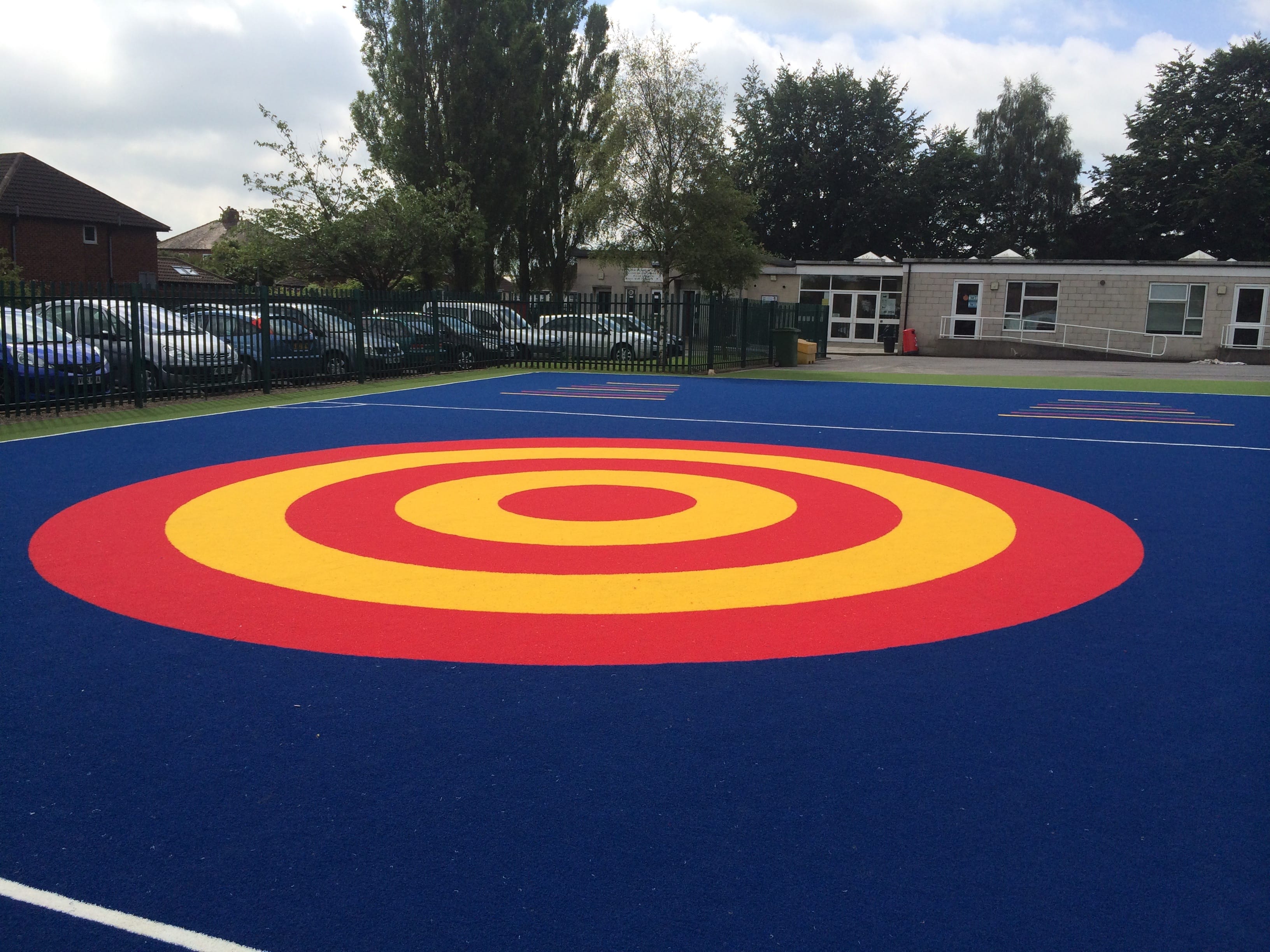 Targets are popular with children as part of the safe playground and can also be incorporated into PE sessions
But it's not all play!
At Synthetic Turf Management children's development both physically and academically is close to our heart and we want to give pupils the opportunity to extend their learning across different environments. We have a variety of designs in our turf to assist with the learning from phonetics to number lines!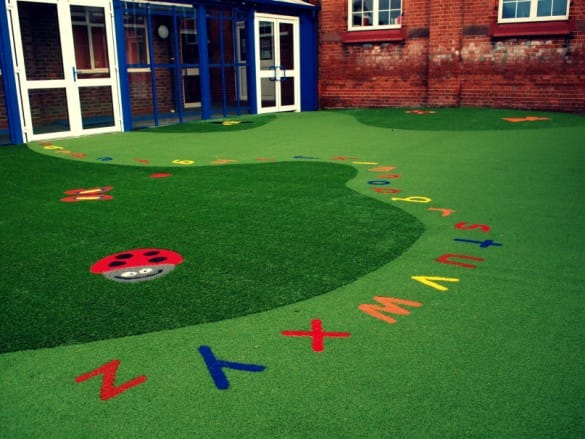 This alphabet line is fun and educational!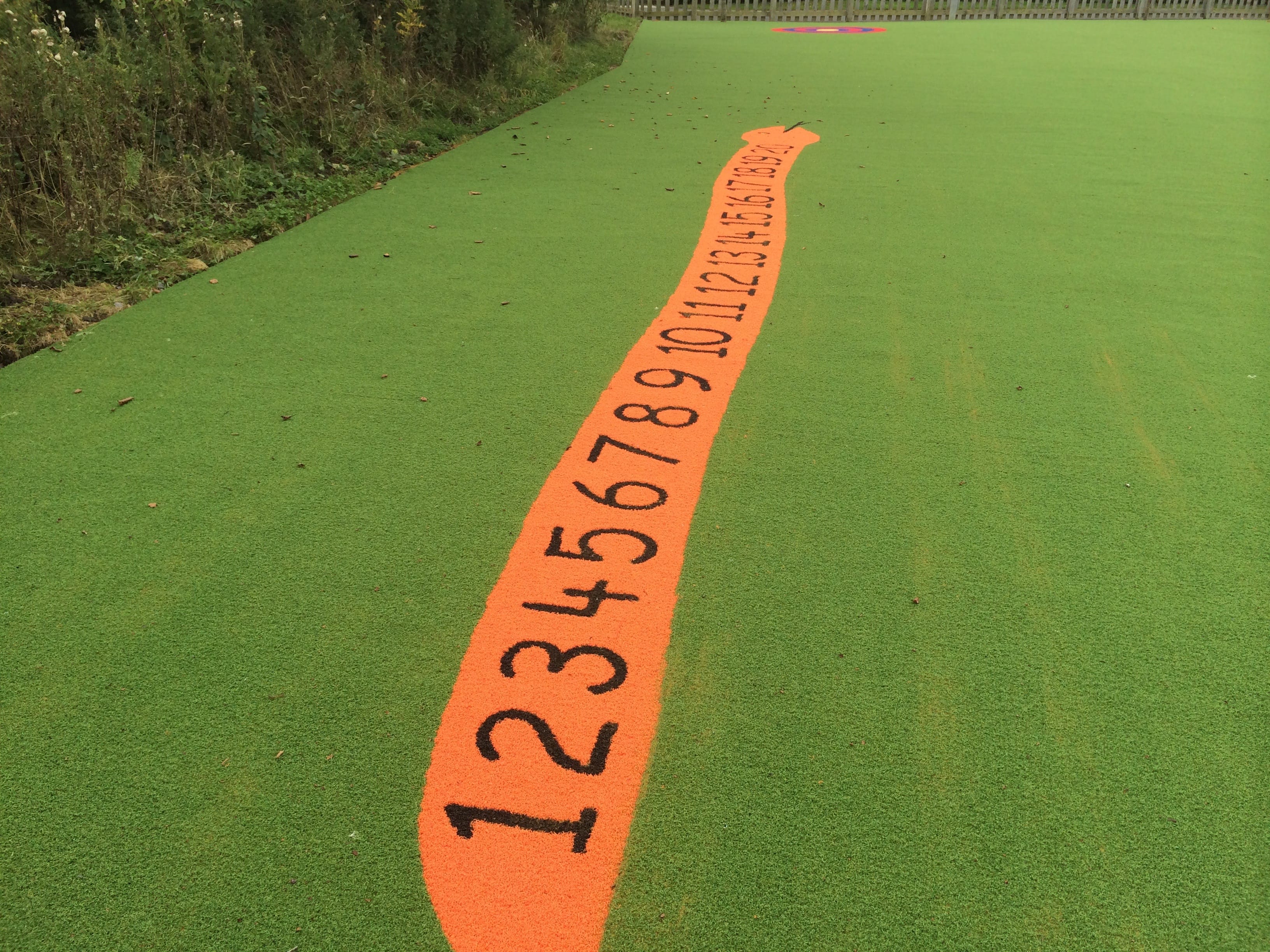 Simple number lines can bring a design to life!
It really is all about the students and their learning, the weather shouldn't interfere with this important part of their school day and we don't need to let it.
So now we have covered the basics it is up to you! Your bespoke design, the colours you want at your school and an amazing safe playground to be proud of!