Outdoor Classrooms and the National Curriculum
The national curriculum for primary education highlights the importance of outdoor learning and outdoor classroom ideas for a child's early development. Because of this, outdoor classrooms are becoming an increasingly popular option for primary schools across the UK. They provide a sensory-rich experience for pupils in both learning and play, as well as creating an energising environment for teachers. Of course, the term "outdoor classroom" is somewhat vague, and many are left wondering what exactly constitutes an outdoor learning area that will encourage interaction and learning on new, innovative levels.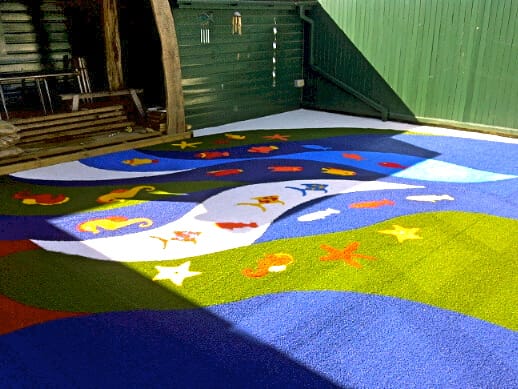 Outdoor Classroom Ideas
Outdoor classrooms can come in all sorts of various shapes and forms. The key is to create an environment that's diverse in what it offers. Our outdoor classroom ideas incorporate anything from giant butterflies to phonics, from hopscotches to roads. It's all about making the most of outdoor learning and outdoor play; we may have the most temperamental weather on the planet, but that's all the more reason to get outside when the sun is shining (or even when it's not). Some schools, for example, desire a mixture of educative, play and sports markings. In a case like this, we would design something with, let's say, a surface that incorporates a running track, a hopscotch, letters and numbers. Life's a playground!
Our primary school story
We've been designing artificial grass playgrounds for over fifteen years. It's our mission to transform outdoor learning areas for schools because we believe in getting kids motivated and getting kids active!
EPIC Playground Surfaces
We've been working hard to develop an outdoor classroom system that means outdoor learning is fun and productive for children. Introducing: EPIC or Education & Play In Colour. Our EPIC surfaces incorporate the best of fun and education, and are are usable all year round, whatever the weather. There's nothing better than seeing a dull, grey playground be transformed into a vibrant, colourful outdoor classroom!