We receive various requests to support charities that are doing incredible work ranging from working with vulnerable children to retired people who cannot always help them selves. We at Synthetic Turf Management cannot support every request, however we help wherever we can especially when it affects our local community.
Artificial Grass and How it can Help Everyone
We recently received a request for some support from a local Middlesbrough family.
Extract from the letter:
"I am contacting you to see if you may be able to help us create a garden area for our severely disabled son, our son Liam is 18 years old and has a terminal life threatening illness and is cared for at home 24 hours a day on a portable ventilator, we are trying to create a stimulating area for Liam to sit outside in a grassy area with shrubs and flowers etc. Liam has been unable to sit outside for the last 2 summers due to a new housing estate being built and suffering a broken leg, we are appealing to you for help as we are unable to work as Liam requires 24 hour care by 2 people at all times."
"We would be forever grateful if you can help us to help stimulate Liam, we have a garden area which requires 25 square yards of turf, we would be so grateful if you can help us in any way, by helping to provide a turfed grass area etc., thanks."
We tasked our Business Development Manager to investigate the request, based on in his working experience of 10 years within the disability sector.
After visiting Liam and his family we decided that we had to help the family.
Liam's ability to communicate is limited to blinking his eyes to yes and no answers only. He requires 24 hours a day care, basically confined to his bed, tube fed and on a ventilator 24/7. His parents have dedicated their life in providing a better life for Liam, and are true salt of the earth type people.
The challenge they faced with the natural turf includes his electric wheel chair getting stuck in the turf because of the additional weight of the ventilator etc.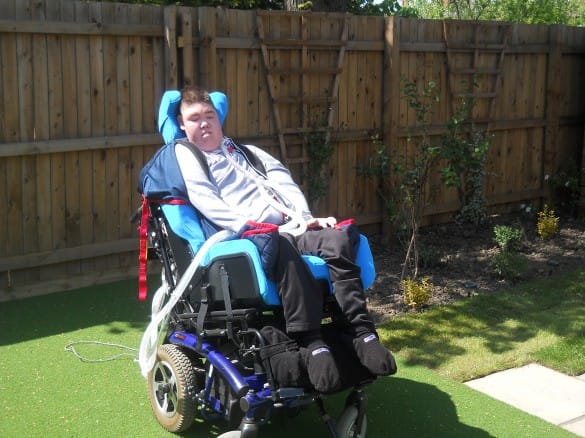 "If everybody helps just a little bit, nobody would need help"
Extract of letter:
"Hi Gerhard, We would really like to Thank You And Your Team Of Men for all your help in making Liam's Garden so nice so that this summer (If we get one that is) Liam will be able to sit outside and enjoy the nice weather, this will be the first time in almost 3 years for Liam to be able to do this. We cannot Thank You All Enough For All Your Hard Work And Generosity. Many Thanks Again" - Michelle, Phil, Liam and Britney Barker.