You may have seen our recent blogs around funding, and especially for schools. However, it can be difficult to keep up with funding as it changes constantly, that is why we are on hand to answer all your funding questions and give you free playground advice all year round. Whatever stage the project you are in, STM are always just a phone call or email away.
Free Playground Advice:
STM have a whole bank of resources and free information available to help you. Look at what we can offer you:
Browsing/looking for ideas? We have a whole gallery of images from projects we have constructed including playgrounds and sports pitches.
Just starting the process? We can give you an idea of costs, including a free no obligation quote. Haven't seen artificial turf before? We can provide you with samples so that you can get a real feel of what the product is like, literally!
Know what you want but don't have the funds in place? At STM, we have access to information from a variety of different bodies and government grants. We can help you through the funding process too.
Already have the funds? Contact us for a free quote, why not!
Already achieved planning permission? STM use special CAD designs so that you can see exactly how your new playground will look.
On Site Consultation:
When we visit your site after you have booked in for a free quote, we will talk you through what stage in the process you are at and can provide the information there and then to help you. Just chat to us when booking in your measure-up and we can be prepared.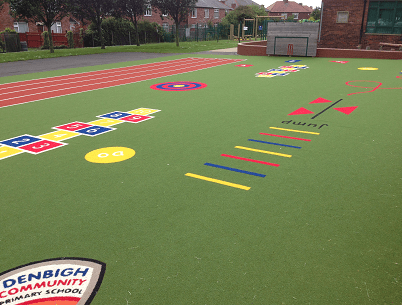 Denbigh Community Primary School EPIC Playground
Is a Playground Even an Option?
Some areas can be complicated. For example, if they have drainage issues, uneven surfaces and damaged base works. That is why we offer free playground advice so that you can understand exactly what is achievable. We would never complete an installation if the playground would face disastrous problems in the future.
Call us today for a friendly chat on 01642 713 555 or email our Director info@stmworld.co.uk