Yet another astro turf MUGA has been overlaid to a primary school playground in Cheshire, this time at High Lane Primary School in Stockport.
High Lane Primary School Project: August 2018
This August we turned an old and outdated surface into a sea of green and much softer playground with astro turf. The area was a tired worn looking tarmac surface which the school wanted to improve to encourage the children to take part in more sporting activities.
364 square metres of British manufactured Evo Excel were installed on top of a 5mm preformed Shockpad to cushion the surface, this is very beneficial especially for primary school pupils.
MUGAs are one of the most popular choices for Primary schools because they combine various sports markings on just one surface, therefore a variety of sports can be played such as football, hockey, netball, tennis and so on. STM can recommend sports markings which support the National Curriculum and help you get the most out of your astro turf MUGA.
How we Create the Sports Markings in Artificial Turf?
It is often a misinterpretation that artificial turf markings are spray painted onto the artificial grass however although we have seen this before, at STM we find that it is not a long-lasting solution and certain sprays may be a safety hazard. Our solution of cutting into the turf artificial grass markings is a much neater and permanent solution.

From left to right: Using an artificial turf cutter to cut a sports 'D' marking. Removing the turf line. Replacing the turf line with white line marking.
STM made markings for mini football and mini netball.
It is a very intricate process and needs to be carried out professionally.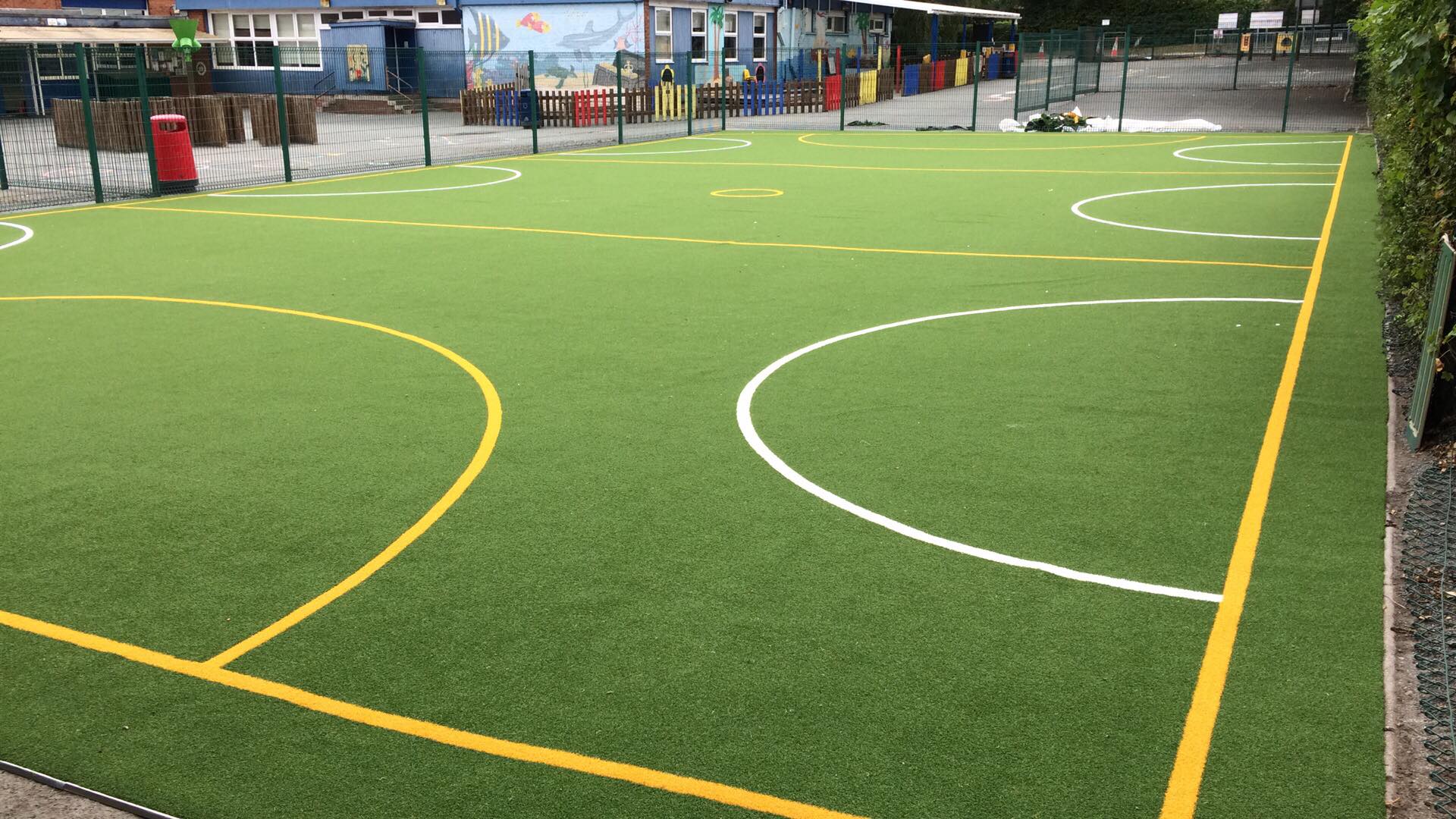 The completed synthetic surface, ready and waiting to welcome the pupils back to school in September
More on MUGAs?
This is just one of the primary school MUGAs we have installed this year, read our blog for other stories at local primary schools near you by clicking here.