What should we really be paying attention to in pupils' lives? Whilst we are all encouraging pupils to excel in school classrooms and academic work, what about outdoors? In recent times sport, PE and activity has been made a much higher priority for schools but it is still not where it should be and many schools don't have appropriate facilities to carry out these crucial tasks and inspire children to take up an activity/sport.
In today's blog we're talking about just that and how your school can cater for all needs of pupils and introduce more activity in the playground just like the case study in this blog.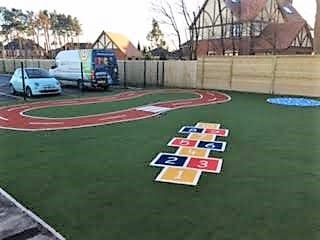 Wynyard Primary School's New EPIC Surface. Completed December 2016
Wynyard Primary School was completely transformed last week with the introduction of STM's famous EPIC product. This artificial turf design combines several different colours along with a non-abrasive turf, trip-free edges, shock pads if needed and many different features. In this case, it was a roadway, alphabet target and hop scotch. What many schools don't realise is that these designs not only help with physical activity, but also encourages other lessons to be taken outdoors. For example, spelling in English lessons can be applied to an alphabet target. A small group of children could be taken outside and learn to spell difficult words in a fun and different environment, therefore this helps to apply learning in different settings.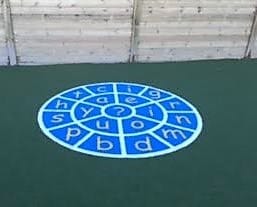 Blue alphabet circle target
So now we know about the importance of EPIC, let's talk about the safety.
The 296 metres squared of EPIC product was chosen because it holds different properties that hard concrete or rubber simply do not. The edges are designed to create a smooth surface and therefore limits trips. The shock pads installed underneath the artificial turf cushion falls and the surface is non-abrasive therefore, unlike concrete, limits cuts and grazes.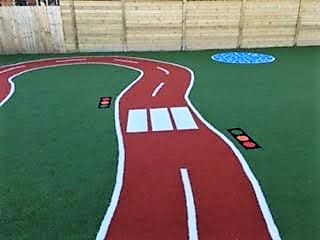 Roadways are a popular choice in many of our school installations.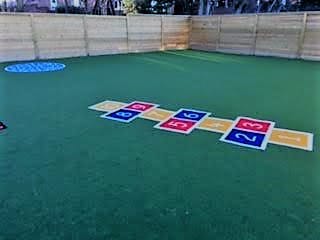 Hopscotch anyone?
Wynyard Primary School- yet another STM project that is one to be proud of. We are sure that all pupils are going to get their daily dose of exercise!
TIP: STM urge all teachers, parents, and school staff to look round the playground. Are children standing around? Sitting on benches? How many are being active?... We thought so…
Fancy an EPIC project for your school?