STM provides synthetic turf products for a range of sports, as well as astro turf for the education sector. We pride ourselves on tailoring our product for secondary schools, primary schools and SEN schools. Safety is always key, and we never deliver a product that isn't 100% customised for our customer. From soft play and MUGA areas for schools, to large, professional football grounds, we manufacture and install artificial grass of the highest quality, and provide excellent aftercare and maintenance.
UK schools are frequently looking for the most suitable synthetic turf surface for playground games and sports lessons. Multi Use Games Areas (MUGAs) are becoming an increasingly recognised way to optimise the budget and space available for school playgrounds and sports areas. Synthetic Turf Management works with schools to provide artificial grass surfaces (*astro turf) that meet the very demanding school environment; durability is key for heavy use during curriculum and extracurricular time
Depending on the use of the running track and who is using it there are two types of turf that we recommend for the installation:
The turf that we use for our installs is a specialist hockey turf however it is particularly useful for the more specialist sports such as running tracks. STM multi sport turf is the world's most highly accredited multi-use playing sport which means it is fantastic as part of a MUGA with a running track. The durability of the product is outstanding so if your athletics surface is going to be used regularly this is the artificial turf for you!
STM play turf is recommended as part of the EPIC product as this is softer and more suitable for nursery or primary school children as part of their playground surface. It is made from Polyethylene and is 24mm in pile height, it also has a texturised feel to it and is a durable turf.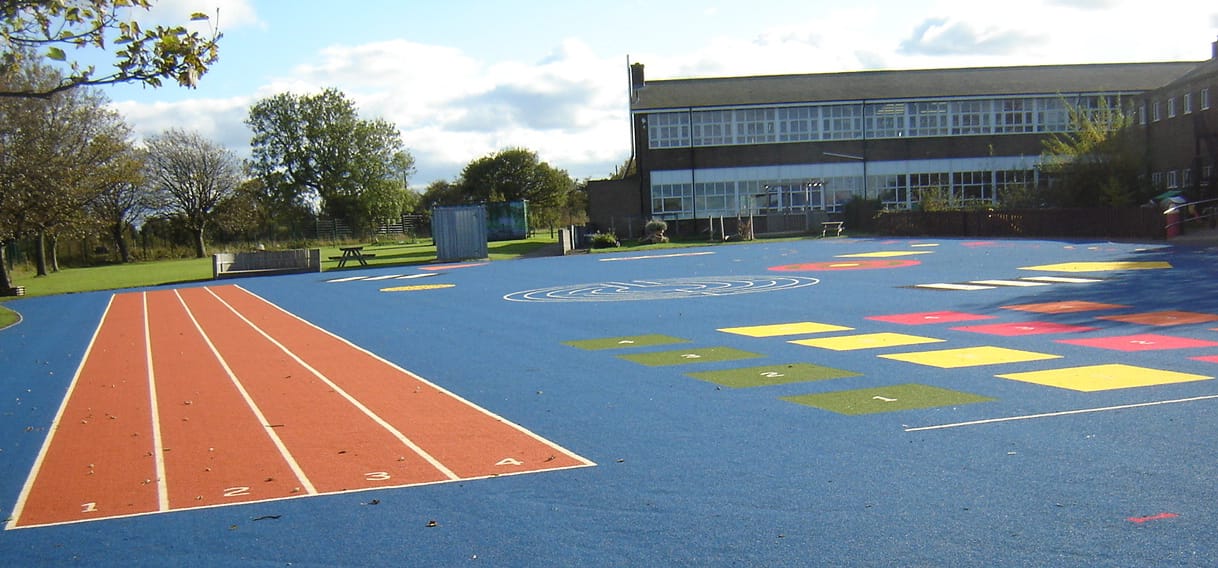 Greenfields School in Newcastle opted for an EPIC playground with sports athletics markings. Suitable for primary school children.