Bringing a play area to life can be a little difficult, especially when you need to make safety a number one priority.
Playground facilities can look much more encouraging and provide a safer learning experience with just a little tendering to.
Riverdale Primary School in Redcar strives to ensure that each pupil is given the best opportunity to build on their physical skills in a secure, stimulating and safe learning environment. Which is why they contracted Synthetic Turf Management to work our magic on their play area flooring.
Our play area flooring green artificial turf is one of the most popular products on the market for existing playground equipment areas. This is because, we don't need to remove that climbing frame, swing set or slide, we can simply install the flooring around this. Furthermore, it is a very cost-effective option as we can usually use the existing surface.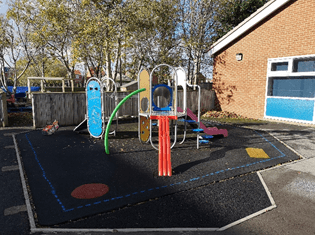 This damaged wet pour rubber surface was a clear health and safety issue, which was why the school decided something needed to be done ASAP.
Around the perimeter of the surface was a raised section surrounding the equipment. Obviously artificial turf cannot be laid directly over this. So, we levelled out the base with crushed limestone to provide a smoother surface area.
Approximately 60 square metres of our signature EPIC (Education and Play in Colour) artificial grass was used in this install to create the ultimate play area flooring.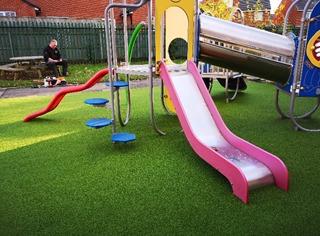 The end result
What Problems Did We Have?
One of the most difficult parts of this type of install is the cutting in. This is where we shape the artificial turf around the equipment.
We use professional turf cutting tools and a team of highly trained installers who know how to work with the product. In schools, it is very important not to leave gaps or ripples during this part of the process as this could also breach safety standards.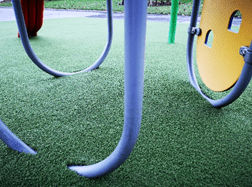 Cutting around the equipment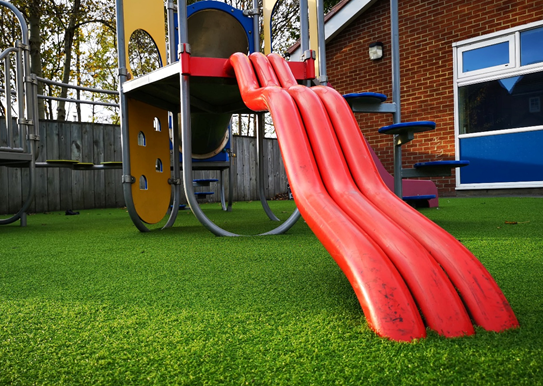 A much more cushioning surface!
Enquire about play area flooring for your school or nursery today!
Contact STM on 01642 713 555 or email info@stmworld.co.uk