Synthetic Turf Management (STM) are specialist in the design, installation and maintenance of synthetic grass, astro turf, artificial grass surfaces and landscapes.
We specialise in synthetic turf surface design installation and maintenance for sport clubs, school, local authorities play in the UK including artificial grass play areas, sports pitches, courts, gardens and landscapes.
Based in Yorkshire we provide our design, installation and maintenance services across the UK with a large customer base across the North East, Yorkshire, and Teesside.

MUGA LIFE - (Learning In Fun Environments) - Exclusive to STM
We often receive the Question:
How long does the astro turf, artificial grass, synthetic turf last after installing it onto a MUGA or on a safe play area/surface in a school?
There are various critical factors which could affect the life span of a synthetic turf surface:
Usage/Footfall - How many hours a day are the surface being used?
Application - What's the surface being used for most of the time?
Product - Synthetic Turf Management has the exclusive agreement with Tiger Turf for LIFE (Learning In Fun Environments) colour product range.
Installation - All Synthetic Turf Management installation staff are qualified as Master Installers, with full site certification including CRB.
After completing a general maintenance visit this week at St Peters Catholic Primary School, in the North East, Teeside are we captured a couple of Images of the MUGA surface installed 5 years ago. The the synthetic turf surface are used on a daily basis during school terms and during the holidays the school allows children from the local community to use the surface.
So what does a synthetic turf surface look like after 5 years of use: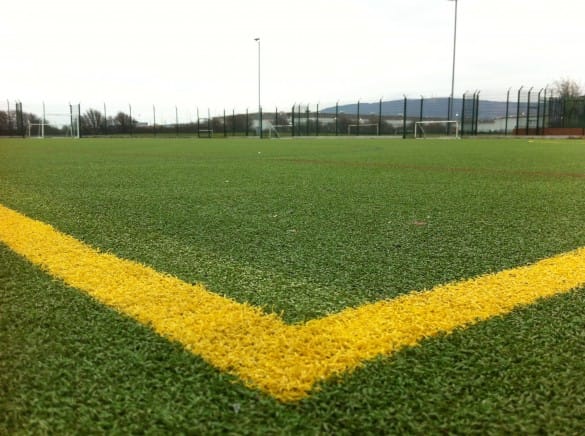 MUGA at St Peters Primary School, South Bank in Teesside, North East, Yorkshire
The Key areas to look at:
The lines markings (yellow) cut into the surface still perfect like the day it was installed.
The general condition of the MUGA (Multi Use Games Area) don't display any movement or changes in the base.
The fencing system does not show any indications of rust or deterioration.
No changes in the sand levels.
The general condition of the synthetic yarn shows no signs of wear at all.
The estimated "LIFE" span of the synthetic pitch at St Peters Primary School would be at least another 8 years.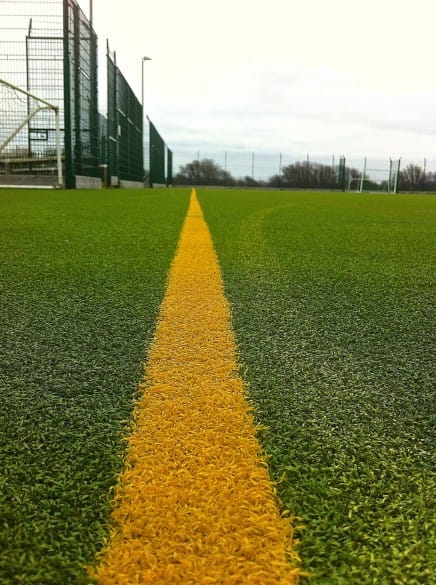 Synthetic Turf, Multi Use Games Area
In summary:
The cost of investing capital into MUGA and safe play areas compared with the long term benefits and cost can not even be compared.
Many surfaces fail to have the correct maintenance treatment which can create a number of issues; from irregular infill levels, open joins, moss and algae, compaction of the infill and general poor up keep of the area.
As part of your maintenance contract, Synthetic Turf Management offer a full site survey and assessment following each visit. This is reviewed with the client to ensure in –house maintenance compliments those completed by STM.
If you are not currently with Synthetic Turf Management and your astro turf / synthetic turf pitch requires a full assessment then STM can help.
Surface and Site Assessment (included fencing check)
Surface Plan (reviewing of existing line markings)
Quotation (preventative & corrective maintenance)
Technical Information and support