The base works have been installed, the grass carpet beautifully laid and it looks fantastic! That synthetic turf that you have installed looks too good to be true. Only after a month you notice the grass is going flat, surely that's not supposed to happen, is it? Well you have forgotten about one of the most important parts of the installation. The synthetic turf infill! In today's blog, we are telling you about its importance to your install.
Sand and Rubber Synthetic Turf Infill
At STM we are not only providers of the highest quality synthetic turf, but we are also installers of this great product and we strive to create an outdoor (or indoor for that matter!) area for you to make full use out of! After installation, we coat the surface with a silica sand infill. Why do you ask? Well without a synthetic turf infill the grass runs a risk of running flat which can cause damage to the yarn and grass blades, especially if the surface is used regularly. Some surfaces including football/3G pitches are often filled with rubber granules which act in a very similar way to silica sand but are more appropriate for this type of grass and its performance.
Look after your Synthetic Turf Infill
Although artificial grass (or synthetic turf) is easy to maintain, low maintenance does not mean no maintenance. You should keep a watchful eye on the synthetic turf infill and monitor the levels as these will need topping up every so often. Over time the infill migrates to the edges of your synthetic surface, quite naturally as the middle of the surface probably gets the most use! Therefore, brushing the surface either in house regularly or out sourcing your maintenance could work wonders for the surface. At STM, we provide a full maintenance division to look after and care for your surface so that you don't have to worry about a thing!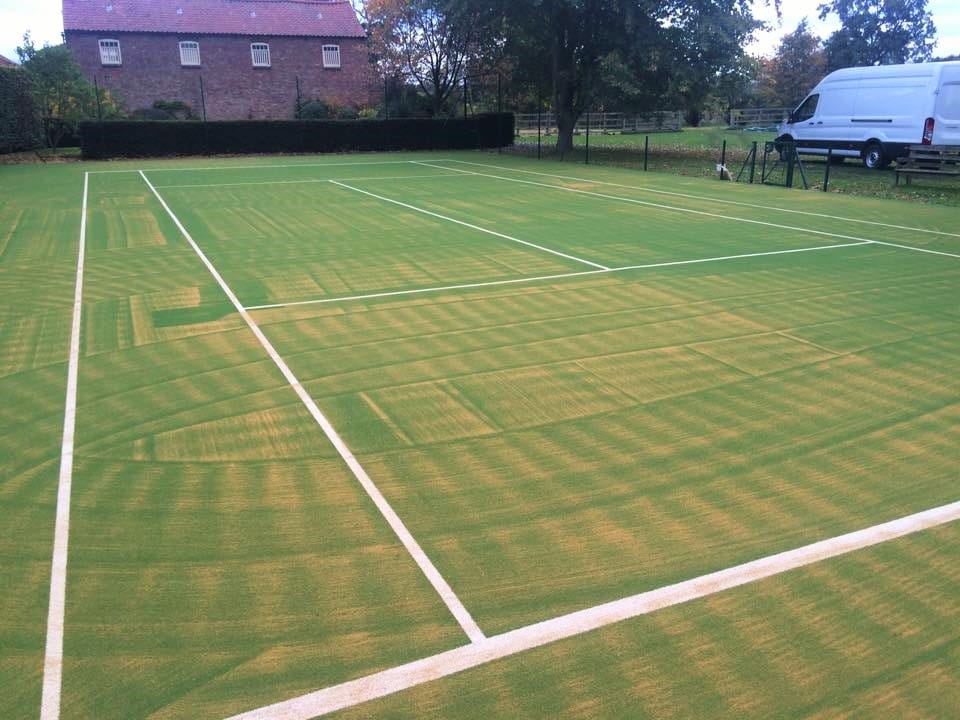 This tennis court has recently been sanding, as the surface absorbs the sand the grass blades will stand upright in the correct position.
Better still, synthetic turf infill acts as a protective barrier and limits the contaminants that penetrate through the surface meaning much better drainage properties and a safer playing surface.