Many synthetic football pitches have reached the end of their performance and now need a full resurfacing. We revisited our two-week project at Pimlico Academy in Central London this week which was completed in August this year and were stunned when the images came in.
Pimlico Academy is a secondary and post 16 facility that understands the importance of physical education and continuously invests in appropriate facilities to benefit all pupils. That is why they decided on refurbishing their synthetic football pitch with a brand new MUGA.
Why Synthetic Turf Management?
Synthetic football pitch turf as part of a MUGA is a fantastic, durable and high performing product perfect for all levels from professional to secondary school beginners level. Here at Synthetic Turf Management, we can organise all of the works for the project. This includes;
Sourcing and manufacturing of high quality synthetic grass
Freight to site
Installation by our key installers, including gluing, taping and permanently inlaying of all line markings
Supply, freight and distribution of sand infill and final grooming
A site 'tidy up'
Every project is bespoke and we are thrilled to take on new and exciting ventures that we know will be enjoyed by everyone using the surface.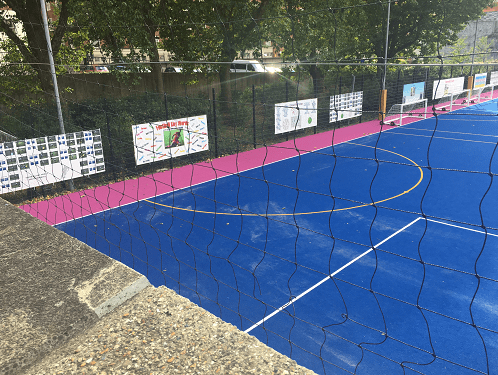 An overhead view of the blue football pitch with a magenta surround complete with white and yellow line markings
What Synthetic Football Pitch Turf Did We Use?
Our British Manufactured Evo Pro turf was the product chosen for the new resurfacing to create three 5/7 a side pitches and a large 11 a side pitch. The turf can also be used for other sports including hockey and tennis.
The sand dressed product is fully texturised which helps to extend the longevity. In addition a new 15mm insitu shock pad is installed underneath the synthetic turf to absorb the impact of regular tackles and falls.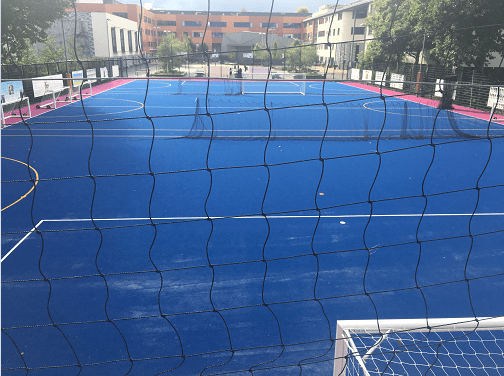 The 2520 square metres of artificial turf at Pimlico Academy.
Have some pictures of your football pitch? Do you think it may need resurfacing?
At STM, we will always try to create the most cost effective option for you. This may mean leaving the underlay if it is still intact and patch it up which in turn could drastically reduce costs. In addition, we may just recommend a thorough maintenance package.
But how can you be sure? Contact Synthetic Turf Management today and we can walk you through the process. We offer free quotes too!