On Wednesday, STM were invited to a local gym in Skelton, North Yorkshire to check out their new facilities. Having designed, supplied and installed a bespoke artificial grass gym track for BodyZone Ultimate Fitness Gym, we were eager to see the finished result and ask the gym what they thought of it.
BodyZone Ultimate Fitness Gym track
Having spent the last year relocating and revamping their facilities, BodyZone was ready this January and in perfect time for the new fitness crazes. Their new 72 square metre green track with white line markings was inlayed into the flooring and allowed the gym to offer more exercise plans.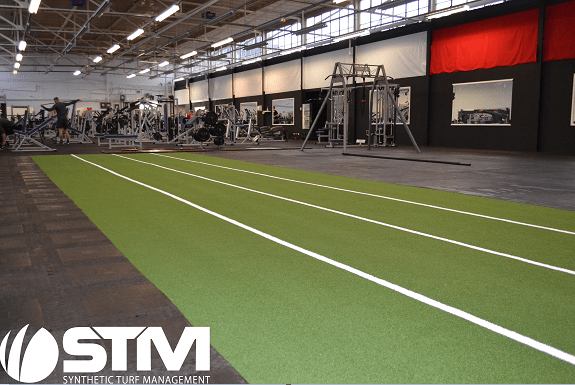 Jordan Fitness
Having worked closely with Jordan Fitness over the last year, when they heard about the gym project they were keen to get on board too. Kindly the gym equipment providers supplied a new sled for the track along with some dumbbells and plates.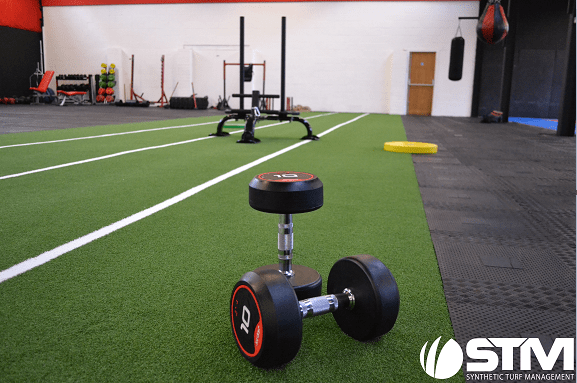 The 10kg Jordan Fitness dumbbells on the STM track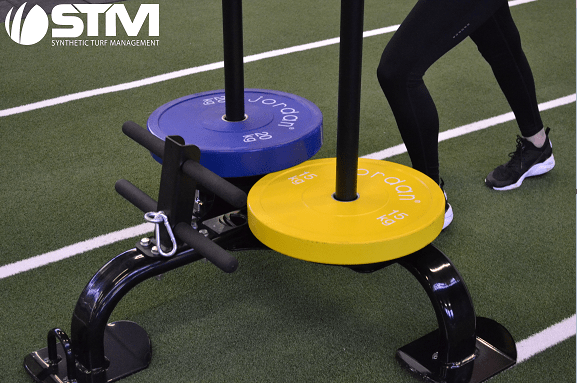 20kg and 15kg weights on sled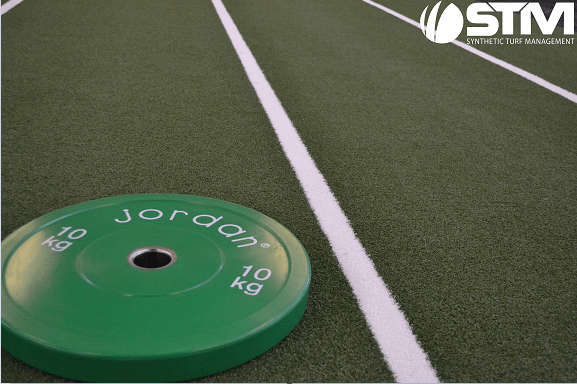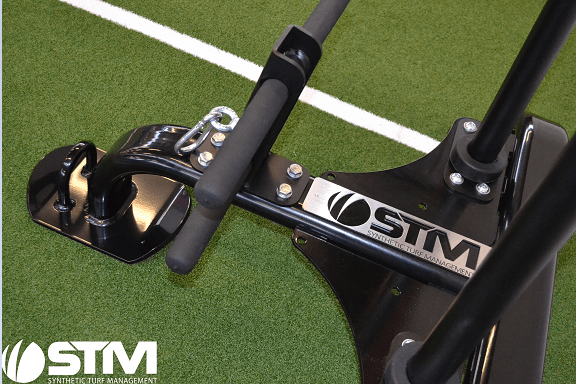 Gym track branded up with STM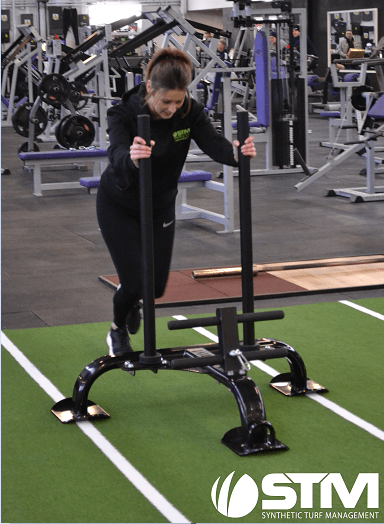 Louise, STM representative, trying out the new sled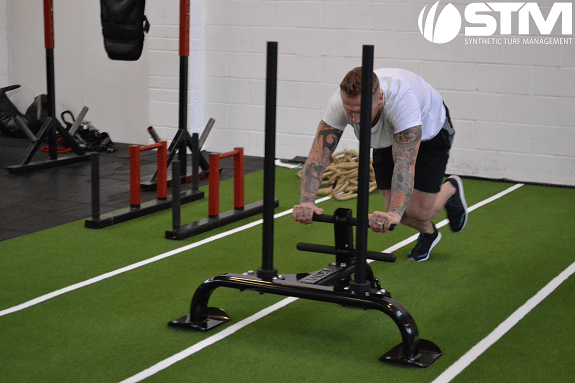 Ben, Member of BodyZone Ultimate Fitness pushing the sled on the new green gym track
What did BodyZone Ultimate Fitness Think?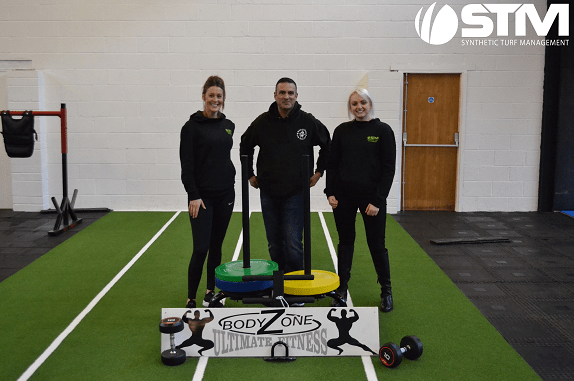 We asked Craig Bayliss what he thought about the new track (above centre, pictured with Louise and Alex of STM)
Why did you Opt for an artificial turf gym mat and why did you choose STM?
We had heard of the use of artificial turf for sled tracks but having STM on our doorstep made the gym mat much more achievable for us. We have been revamping our facilities with a new change in premises over the last year and the artificial turf gym mat was one of the final things to put in. We have found artificial turf low to maintain and the vibrant colours really add to the overall look of our gym.
How are you and the gym users finding the new gym mat?
The gym mat has proven to be very popular since it was installed just before Christmas. We recently received our new sled which was kindly given to us by Jordan Fitness which enhances BodyZone even more! Our gym members have all been excited to try out the new gym mat and sled and I have had the opportunity to offer additional classes as well.
Would you recommend STM? Why?
I would definitely recommend STM, they have an excellent service and work very efficiently. They have gone above and beyond. Not only have we received a high-quality product at an exceptional service, but we were delighted to find out that STM, Jordan Fitness and even the local newspaper were all interested in getting involved in the gym.
What are you hoping in the future for your gym after the installation?
I am hoping to attract more new members to our gym and now we have the most advanced facilities we can offer something that other local gyms cannot.
And Even the Local News Got Involved!
When the local Gazette heard about the gym and the new track they came down too and published a story online.
Working together with our partners and the local news team on this project was a great opportunity and we were pleased to see this all come together. Thank you to everyone involved.