At Synthetic Turf Management we specialise in making every primary school playground EPIC.
EPIC is an artificial turf playground surface system that we have created, it stands for "Education and Play In Colour" and we developed it with the aim of delivering an outdoor play environment that engages children in learning and exercise.
By using our specialist synthetic turf products we can develop amazing play areas that can be used safely in all weather conditions.
We have colours that are exclusive to STM and our trained installers can work wonders with this turf to create stunning designs to encourage play and learning. Take a look at some of the options available below.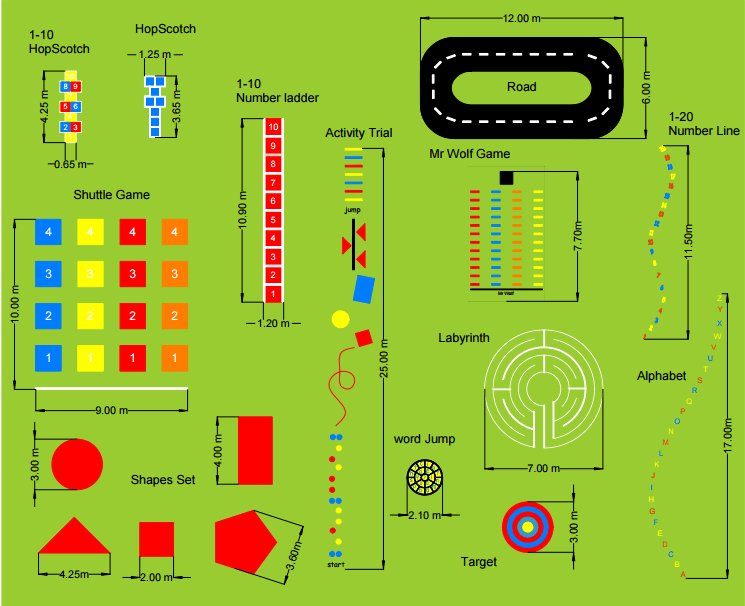 We can incorporate the following designs in your playground build. With so many options available we can design you the perfect school playground.
We are proud to be able to work closely with primary schools to transform their playgrounds and to improve the learning and play for the pupils; but don't just take our word for it.
"We had STM EPIC laid by Synthetic Turf Management on a large Key Stage 1 playground. The work was completed to a very high standard and we are delighted with the results. Synthetic Turf Management have kept to all of their deadlines and have acted in a friendly, efficient and professional manner from the planning stage through to the completion of the work.
The children are delighted with the results and the teachers have commented on the difference it has made to the behaviour at break and lunch. Many teachers are also using the markings within lessons to support curriculum."
Lynda Phillips, Headteacher, Greenfields Community Primary School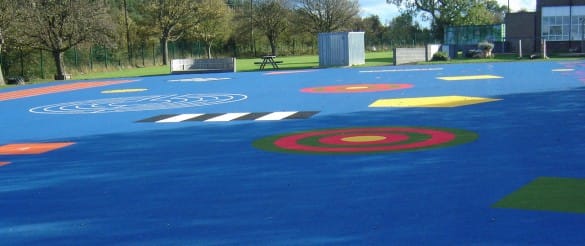 Greenfields EPIC Playground designed and installed by Synthetic Turf Management.
This is just one of the many happy schools that have had STM EPIC transform their playground. View more testimonial's on our testimonial page.
Our EPIC primary school playgrounds have also been endorsed by the amazing Baroness Sue Campbell, OBE, Chair at the Youth Sport Trust. We can think of having no higher accolade for our playgrounds then them being recognised by the YST, one of the leading independent charities devoted to changing young people's lives through sport
"The Youth Sport Trust is delighted to be working in partnership with Synthetic Turf Management via our Business Honours Club, and supports the organisation in its mission to transform playgrounds across the UK into bright, exciting and educational play spaces.
At the Youth Sport Trust we have been working with schools for 20 years. We know that they have a central role to play in improving and maintaining the health and wellbeing of all of their pupils and have seen first-hand how good health supports successful learning.
Being physically active and having access to high quality physical education enhances concentration, raises attainment levels and improves the behaviour of our young people. A well planned, colourful outdoor space can help improve education, sport and play, getting young people excited about physical activity and enthusiastic about learning.
And, perhaps most importantly, they are fun! Where better to learn than outdoors in the fresh air?
Good luck with your playground and we'd love to hear from you with your success stories."
Baroness Sue Campbell, OBE - Chair, Youth Sport Trust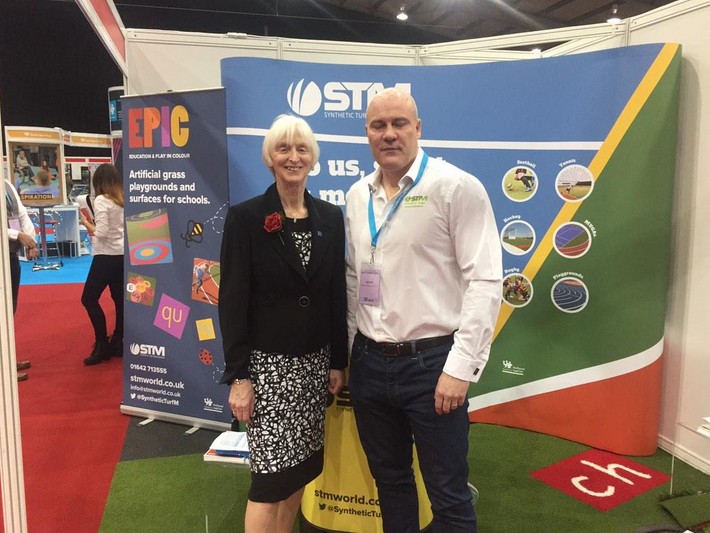 Baroness Sue Campbell with Jon Bell, STM Director
If you are interested in making your primary school playground EPIC contact STM online or call our head offices on 01642 713 555.