Many people think that this time of year as the school's wind down and people prepare for the Christmas festivities, there simply just isn't any point in trying to tackle that outdoor area that has needed rejuvenating for a good few months. With unpredictable weather it is only too easy to put it off until next year. But, let us tell you why now is just as easy...
Firstly, many others think exactly the same as you do. So, it is often much quieter. Meaning we can work around you and offer you no inconvenience and a hassle-free job
Artificial grass can be installed in many different types of weather. If you are waiting for 25 degrees and sunny, it would unfortunately be a waste of time.
Our latest project, which started last Monday, was completed in a pretty dull 8 degrees and cloudy in the town of High Wycombe in London.
Included was the supply and installation of a bespoke EPIC surface complete with hopscotch, footprints, letters and numbers. Coupled with a layer of Grano dust base and 5mm rubber padding transformed this unusable surface into an all-weather playground. Whatever the weather!
105.6 square metres of our specialist play artificial grass which is specifically designed for young children with its safe playing properties such as trip free edging, cushioning underfoot and a much less abrasive area than alternatives.
And with that… this was created…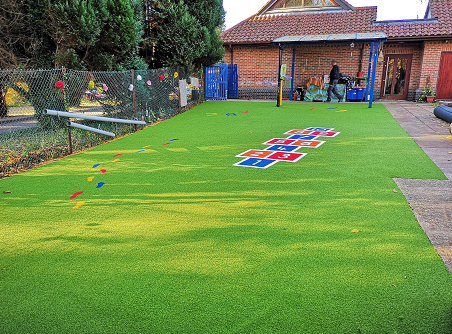 Another great benefit of artificial turf play flooring is that it can be used both indoor and outdoor. Furthermore, not a drop of mud in sight! No mud equals no mess.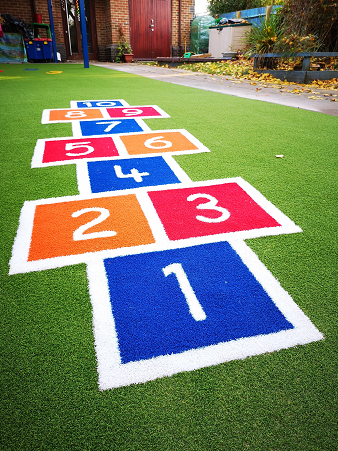 Hopscotches are one of our most popular designs when it comes to EPIC playgrounds. We mixed this one up a bit with orange turf (we usually include a yellow design).
Enquire for play flooring today for your playgroup, nursery or school.
Just complete the contact form here.