The landscape of school playgrounds has been changing over the past few years, with traditional games being boosted by bright, colourful and imaginative playground markings. Now, with the launch of our new playground surfacing system, EPIC (Education & Play In Colour), there are more ways to get creative than ever. We thought it'd be cool to take a look at some of our best designs to date to get the creative juices flowing for future projects!
Underwater world playground markings
This was a fantastic project to be a part of, and probably our most imaginative yet. The surface was designed to be a safe play area for Severndale Specialist School, which is attended by pupils that have a range of learning difficulties. Our aim was introduce really vibrant, bright and colourful playground markings to the artificial grass area, and before we knew it, our imaginations were running away with us with all sorts of inventive ideas. We went with the underwater world theme because it allowed to us introduce bright, colourful shapes to the turf, which would encourage fun and learning outdoors.
Fun & educative playground markings
Over the years, we've been exploring all the different ways we can bring a little fun into outdoor learning. Some of the best playground marking ideas we've had from schools include everything from letters, to numbers to phonemes. They're a great way to get kids interacting, and active in their learning.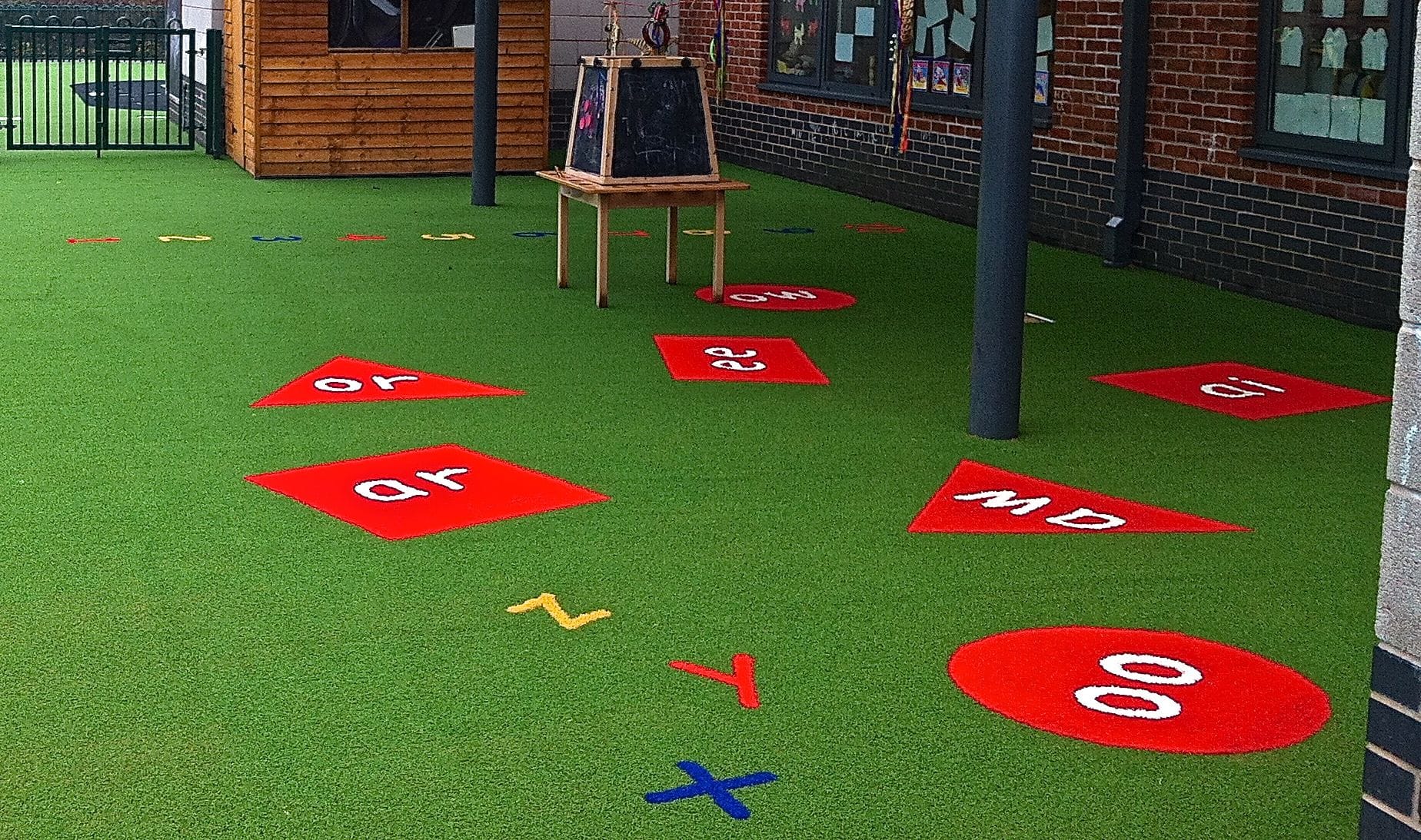 Of course, games form a (very) big part of kids' lives too, which is why we never have a shortage of hopscotch designs, targets and even roads.
When it comes down to it, playground markings can be whatever you want them to be. We never fail to be surprised by the new and imaginative designs that schools come up with on a daily basis. Just remember - all of our playground surfaces are totally bespoke, so however wacky your ideas are, we'll see what we can do!
If you're interested in playground surfaces for your school:
Give us a call on 01642 713555