A secure and safe play area can be difficult to achieve. The heavy footfall and time spent can leave it looking worn out. But not with Synthetic Turf Management safety surfacing which is specifically designed to do just that, suitable for all ages and built to be durable yet soft and inviting for even early years children.
Play areas are a common addition to many different types of businesses all over the UK. Not only do schools offer play areas, but we are seeing the likes of big businesses offering childcare facilities which is fantastic to see as we always aim to promote outdoor activity in children of all ages. David Lloyd Teesside decided to up their facilities and create an outdoor safety surfacing area.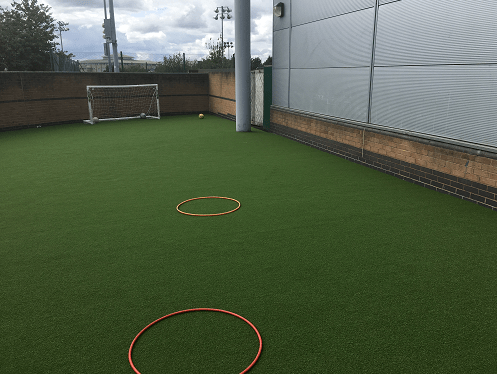 The all green multi-sport product can be used for sports or light play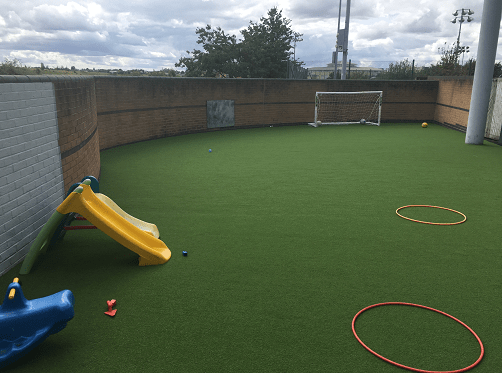 Coupled with a specific padding underneath this creates a soft cushioning underfoot.
Safety Surfacing at STM Means 5 Things:
Non-abrasive artificial grass blades which are fully texturised and available in a variety of colours which is perfect for play areas-plus it won't go flat either!
Trip-free edging (even when joins need to be made)
A shock pad or rubber sport bad installed underneath which provides a soft landing if needed (e.g. for climbing frames/slides etc…)
A plastic edging is used to secure the artificial grass down so that it won't lift
It has been trialled and tested on thousands of children all over the UK and they love it too!
TIP: Be sure you consider the safety of your surface before the installation. Artificial grass installation should come with guarantees and warranties- plus cover the legality of the Critical Fall Height (CFH).
Ask about the STM play product today and receive free samples and a free consultation.