Synthetic Turf Management have been busy installing a stunning Multi Use Games Area at Northfield School and Sports College in Billingham.
We were at Northfields School resurfacing their full sized 3G football pitch and as part of this redevelopment Northfield wanted a news sports area at the front of the school. The existing area was a worn out concrete playground offering very little to the school. Northfields decided to upgrade the crumbling playground with the help of STM and they decided to have an artificial turf MUGA installed on the existing site.
Our synthetic turf MUGA's are a popular choice for schools as the artificial grass is safe and can be used year round, whatever the weather. We can also design amazing spaces that make the most of the space available at schools by incorporating many different sports marking in one facility. Unlike traditional painted markings our artificial turf MUGA's don't fade and will never need reapplying as the lines are cut into the turf with our specialist lining material.
Artificial turf also helps create an amazing play surface that performs far superior to hard concrete or tarmac services that most schools use. Our synthetic turf is also much safer and it's all weather properties means the school can use the surface year round.
With sports lighting options from our lighting partner the Sports Lighting Company the all weather pitches can be all day pitches, even when the sun goes down.
Take a look at the amazing project at Northfields for yourself…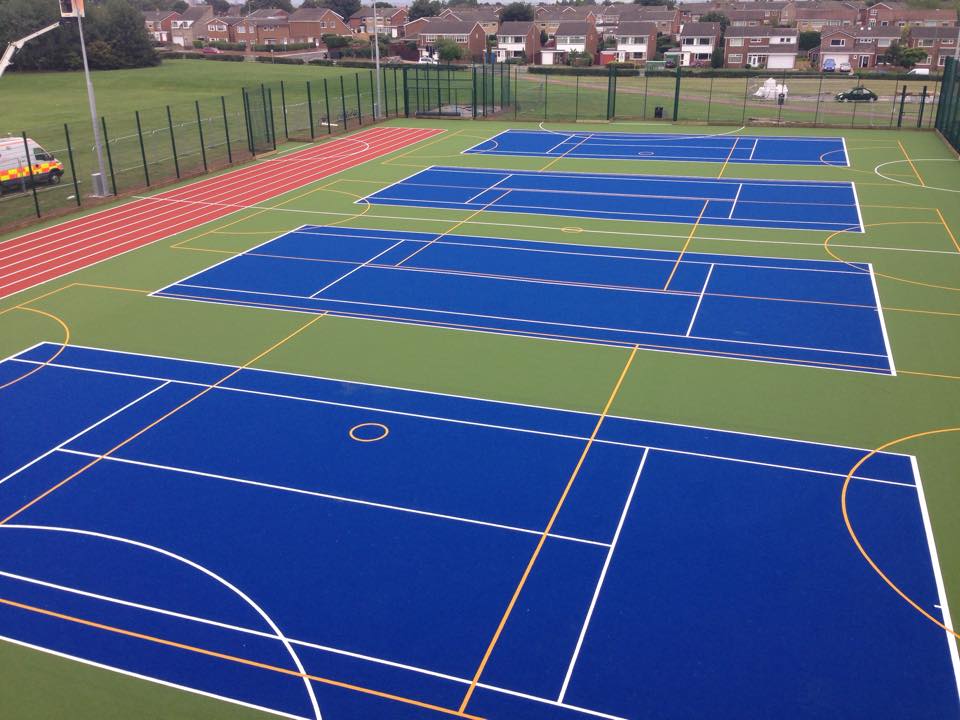 Synthetic Turf MUGA at Northfield's School
This amazing space offers the school 9 a side and 5 a side football, 4 tennis courts, netball and hockey pitches as well as a six lane 60 m sprint track and a stunning long jump area.
Thanks to Northfield Schools transformation photos you can see the amazing work that was completed here over the summer.

Northfield Sports College new sprint track.
Northfield's Sports College MUGA

Long Jump Area made safer with synthetic turf.
If you think your school could benefit from an artificial turf MUGA than you can book your free STM consultation. Call today on 01642 713 555 or enquire online.