At the end of May our installation team were in Redcar, North Yorkshire at Wheatlands Primary School with yet another outdoor artificial grass surface (Education and Play in Colour) install. This time in Green.
Wheatlands Primary School is a community primary school for children between the ages of 3-11. Situated in the seaside town of Redcar it is not too far away from STM's Stokesley based offices, (approximately 12 miles). The school wanted an idea of what could be done with an outdoor square area in the middle of their classrooms. Something to look out of the classroom window at and see colour and space but without the need for heavy upkeep. Then we were called to the scene.

A full view of the installation at Wheatlands Primary (May-June 2017)
How we created the outdoor artificial grass surface?
The surface was 110 square metres of green artificial play turf which is used because it holds properties suitable for primary school age. For example, the turf is texturised so that it doesn't run the risk of going flat over time. In addition, the surface is non-abrasive and can be used for a variety of different activities including different sports.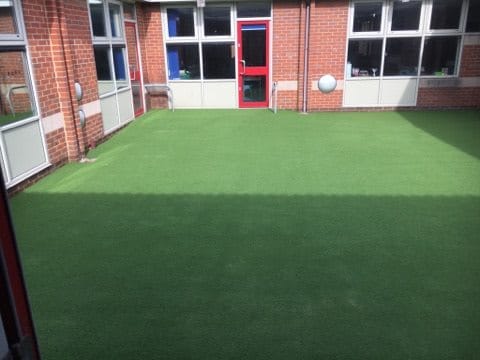 Children can now use the 'outdoor classroom' in a completely safe way
The surface is also coupled with a 5mm rubber pad layer underneath which helps to cushion the surface. The perfect way to tidy up an area but making it super safe for everyone too.
But, we know what you are thinking… What surface can artificial grass be installed on?
The truth is, most surfaces can be transformed with artificial grass. Some are easier than others and therefore this reflects in the cost. Concrete can be used as a base and the artificial grass overlay is installed on the top. Often the base may need patching up but we can do all of that for you. Natural grass is somewhat different. The existing turf would need removing and a new base built. As for things like uneven paving, this can all be removed in an easy and hassle-free way.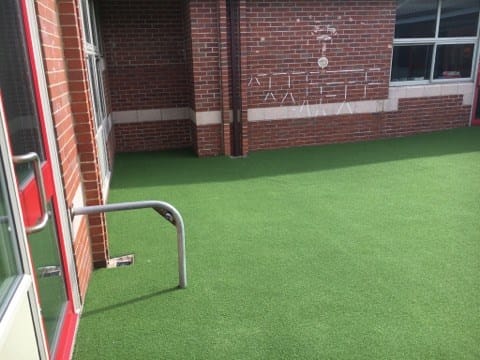 Artificial turf can be installed around almost anything!
But as every job is different, we emphasise that a thorough site consultation should take place. Why not contact our specialists today and arrange for a call to talk you through the process?