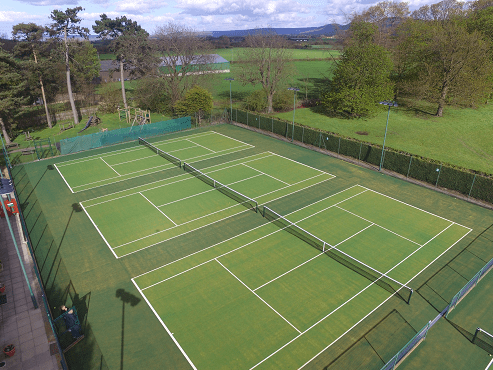 Tennis club resurfacing of 3 adult sized courts
Tennis Club Court Resurfacing
From resurfacing multiple courts at some of the country's top tennis clubs to working on single court projects at private homes STM have the expertise and professional ITF products to meet your individual or club needs.
Synthetic Turf Management understand the unique requirements of tennis clubs from our experience resurfacing top tennis clubs like Hutton Rudby Tennis Club and Boroughbridge Tennis Club and our expert service and professional products make us the best option for any tennis court resurface or overlay. To learn more about our offerings to the tennis market click this link to visit our tennis section.
Private Tennis Court Resurfacing
We have also worked in private homes up and down the country resurfacing private tennis courts. Our all-weather surfaces look great and perform even better which makes them the perfect option for homes and clubs. All our surfaces have been rigorously tested and they are recognised by the International Tennis Federation (ITF) so you are guaranteed a quality playing surface.
Consultation
All our projects start with a free consultation so we can understand the unique requirements of your tennis court resurfacing project. This also gives you the opportunity to discuss other areas of work that your club may need such as fencing, sports lighting, and floodlights which we can deliver through our specialised partner companies.
To book your free tennis court consultation contact STM using the information at the bottom of the page.
Tennis Court Uplift
Using specialist cutting tools and expert technique tennis court uplifts can be done quickly, efficiently and without damaging the existing base works. Protecting the base is always the main priority for STM when conducting uplifts as this saves tennis clubs considerable costs as minor patching and preparation work can be used as an alternative to fully new base works.
-Using specialist cutting tools STM can cut the old surface into smaller more manageable strips ready to be uplifted and removed.
-Cutting the turf into smaller strips means it can be rolled up on site without damaging the existing base works.
-Using specialist techniques STM can roll up the existing surface ready for removal.
Tennis Surface Removal
STM always look for the most environmentally friendly ways of removing and disposing of artificial turf. Working closely with our partners STM are exploring new and innovative ways to dispose of old pitches and we continue to look for green solutions for the removal of existing tennis court surfaces.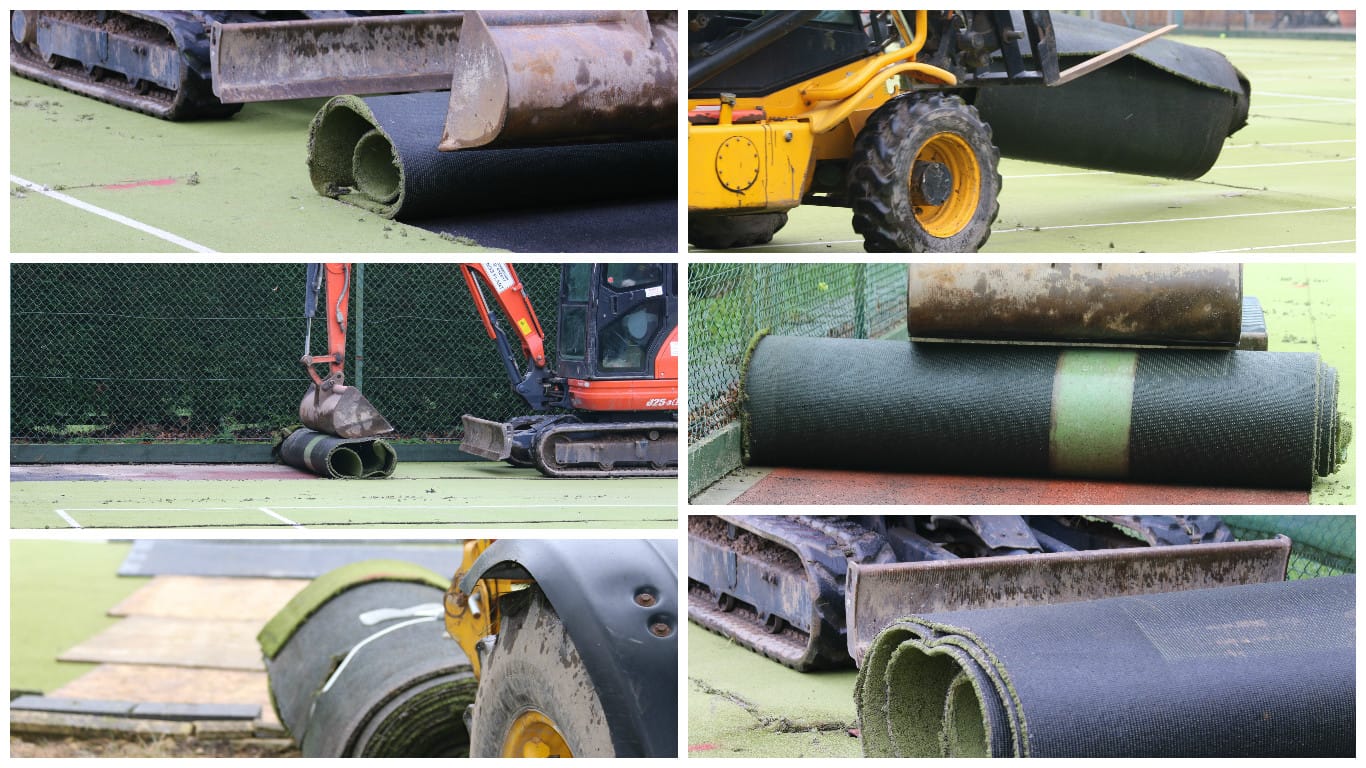 We prepare all the turf onsite so it can be quickly removed from site.
Tennis Court Resurfacing
Supply and installation of artificial turf surfaces for sports is where STM specialise and with over 50,000 sqm of synthetic turf being supplied and installed a year you can be assured we have the experience and expertise for your project. We can resurface courts with the best tennis surfaces available so your courts will perform and look great. We use products that are approved by the International Tennis Federation (ITF) as they are the experts in the tennis sector.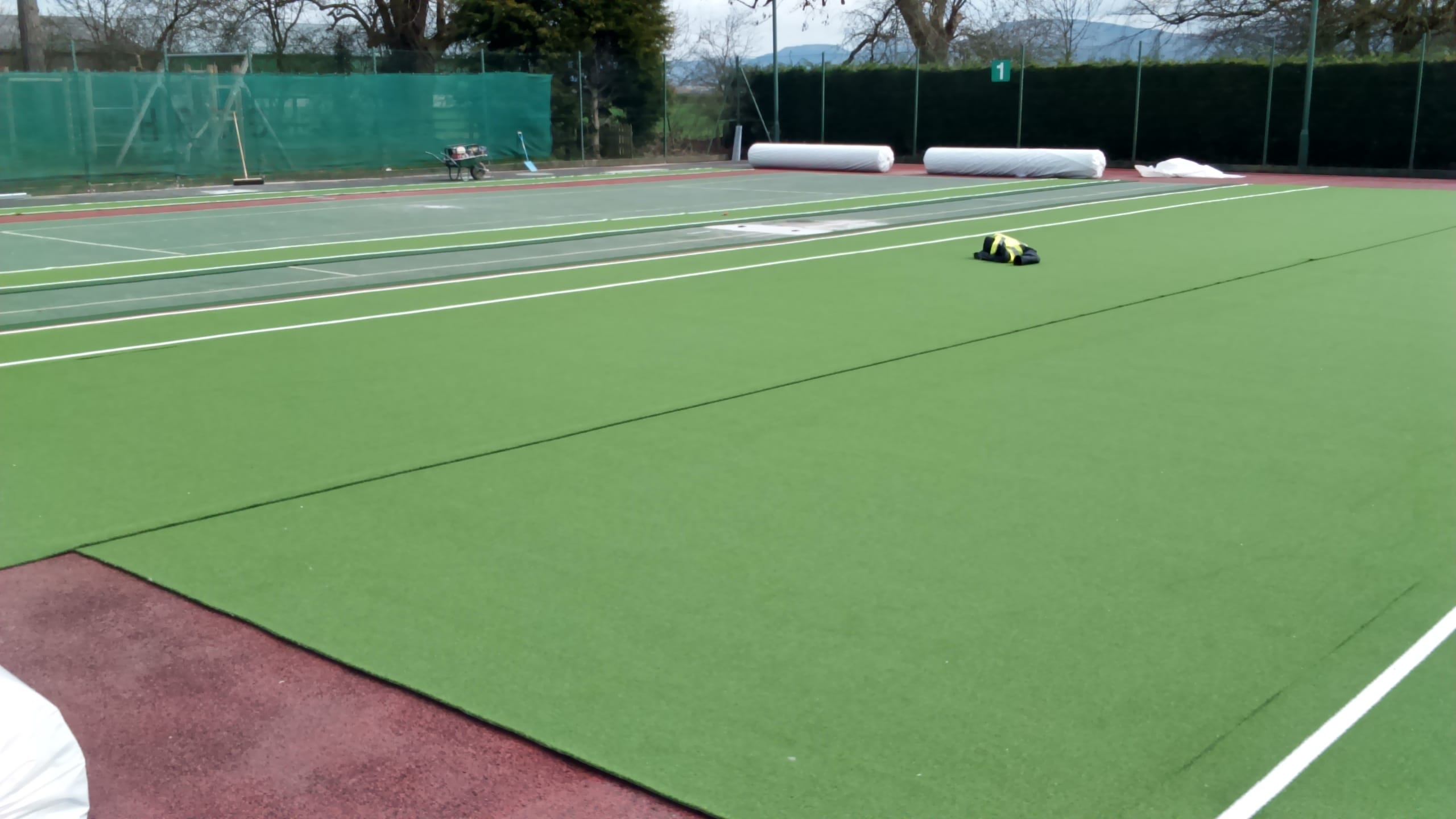 STM have specially trained installers that are experts at cutting in permanent line markings and sports courts.
Aftercare for Tennis Courts
Synthetic Turf Maintenance is the specialist maintenance department of STM and maintenance programs will extend the lifespan and performance of tennis court surfaces considerably. Our guarantees and warranties also offer protection on our products and installations so you can have peace of mind with STM
Synthetic Turf Maintenance, a division of STM use specialist maintenance equipment to keep synthetic tennis courts performing at their best.