Another sports project complete for 2019 by STM, this time at Twickenham Stoop Rugby Ground where English Premiership Rugby Union Team Harlequins FC replaced their tunnel walkout with the fastest growing rugby surfacing option available; artificial turf.
Artificial turf for rugby isn't something necessarily seen very often, but due to its success in football, hockey, tennis and multi-sport, more rugby teams are opting for this product, not just for the playing surface but for side-lines, coaching areas and of course walkouts.
Last week this artificial turf flooring was installed at Harlequin's home in London with British manufactured Evo Pro in black. With a rubber bevelled edge at the sides of the turf which was an overlay onto hard standing. The surfacing was tailor made to fit in with the ground, its values and a little something for the fans too.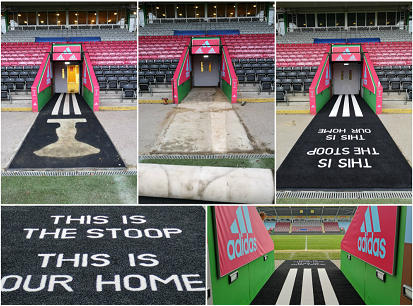 Three white strips are included as part of the design along with white text reading, "This is the Stoop. This is Our Home"
Something so simple really can create such positive results for the fans, players, brand and reputation of the whole club.
We love this project!
Call us on 01642 713 555 for more information on this.