Here at STM, we have been asked to complete so many different artificial turf designs for playgrounds however we also think that they should be used frequently and not just for the children to think of their own games. There are so many different lesson ideas that you can try with your pupils, we have put just a few together in today's blog to give you an idea on what you can bring to your school with these quick lesson ideas for playgrounds. This includes differentiation and whole classroom inclusion on top of making learning just that little bit more fun!
First up…
The Number Line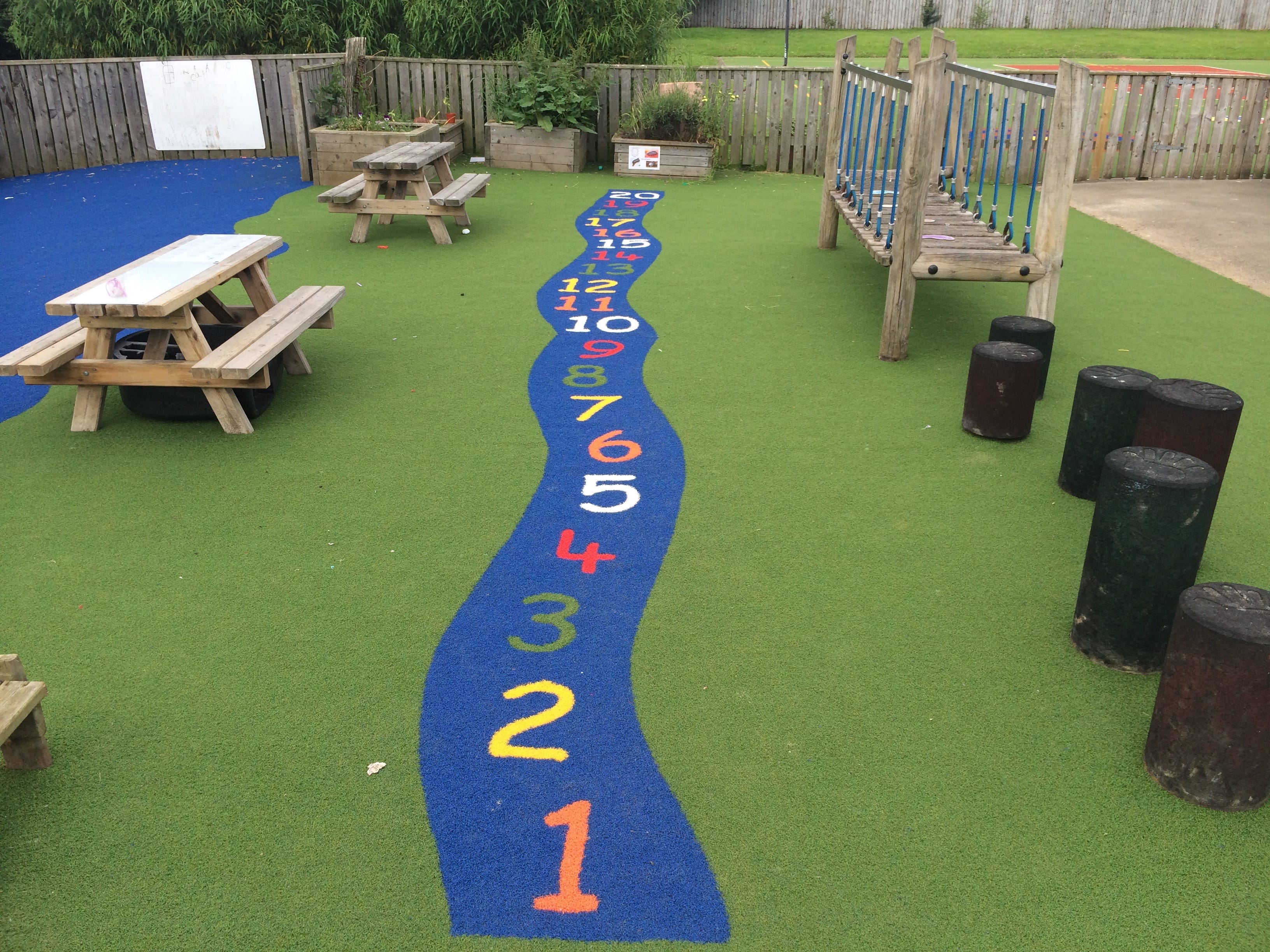 Number line lesson ideas
Lesson Idea 1:
You will need: Absolutely nothing!
Activity: Students are to be put together in groups of three. They will take it in turns on the number line, they must each stand on a different number whilst the other students watch and observe. Each of those numbers has to make a sum.
For example: Pupil A: Stands on number 3. Pupil B: Stands on number 4. Pupil C: Stands on number 7
They then must tell the rest of the group their sum: 3+4=7
This reiterates their learning back to the rest of the group and educates everyone!
For Differentiation: Higher ability students, the teacher may ask them to use a different symbol, for example divide or multiplication:
Pupil A: 8. Pupil B: 4. Pupil C: 2
8 divided by 4 =2
What is great about this game, is that it is a quick and easy way to finish off a PE session on a high note, bring the pupils down to a calmer level after they have been running about playing sports and adding a little bit of mathematics too!
The Coordinate Grid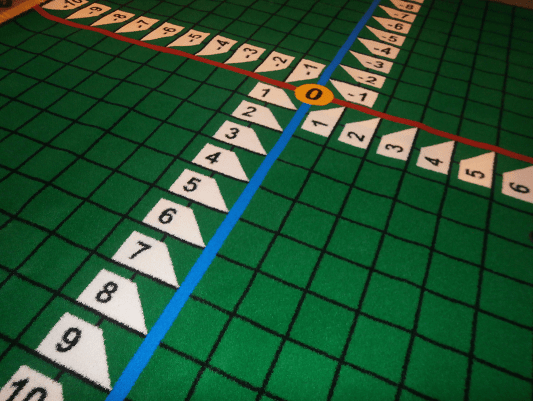 Coordinate grid lesson ideas
Lesson Idea 2:
You will need: An object (any object!)
Activity: Students are divided up into groups of 4 of MIXED ability.
The teacher will place an object on the coordinates grid, they will then ask all groups to discuss amongst each other for 1 minute. Students must plan that, if they were to ask someone else to draw the object in that exact position, what would the coordinates be. Then the groups will feed back as a whole class discussion. Each pupil must say at least one coordinate to encourage all pupil participation. But as students can discuss between each other, they will learn from others.
For differentiation: an object with straight edges for example a book or a box would cater to lower ability pupils whereas an object such as a cone, cylinder etc… for higher able pupils.
"What is great about this game is that it can be used for students who are just starting coordinates, or those that are more advanced. It is a great visual tool and very engaging for the students".
The Alphabet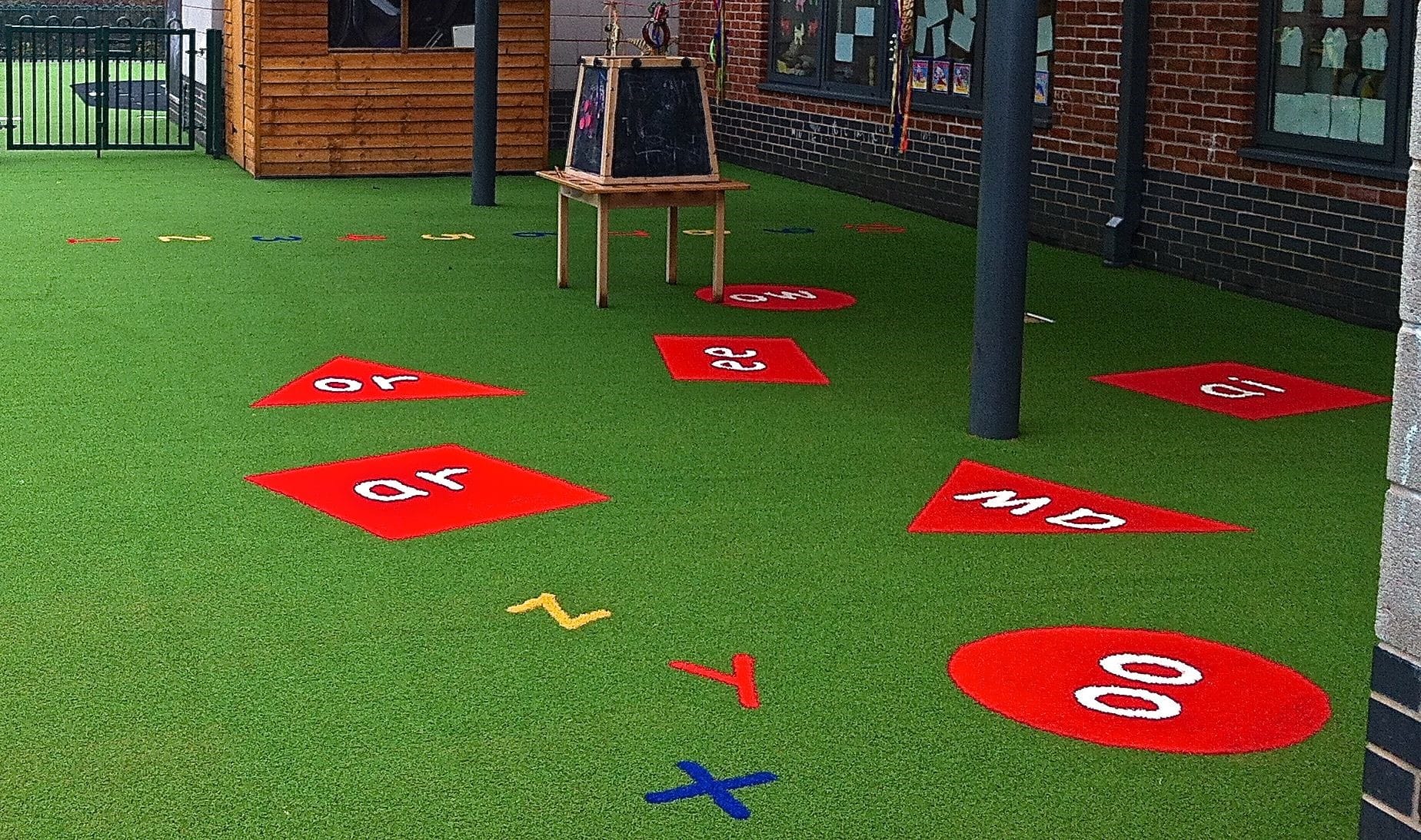 Alphabet and phonics lesson ideas
Lesson Idea 3:
You will Need: A whistle
Activity: The teacher will ask all students to start walking around the playground, they will then explain the rules of the game.
If the teacher blows one whistle the students must: Run
If the teacher blows two whistles the students must: Jump
If the teacher blows three whistles the students must run to a phonics shape.
If there are, e.g. three students on one phonics shape the teacher will ask each one individually to tell them a word that included those phonics. If they were stood on 'ee' a child may say 'sheep'
If a student can't come up with a phonic they will then stand with the teaching assistant and practice their phonics whilst the game carries on.
For differentiation: Lower ability students will be asked first and then higher ability students asked last when they are telling the rest of the group. Students tend to listen well in this game so that they can get ideas for the next round.
"What is great about this game, is that when the students are running, they think about where they are going to go next. Or if there are many students on one particular shape, they might go to another one".
Now you can transfer to your school...
These are just three lesson ideas for playgrounds out of hundreds! We have so many here at Synthetic Turf Management and are pleased to see that many of our primary school installations are already optimising the usage from their synthetic surface.