If you know us at Synthetic Turf Management, you may be aware that we are keen supporters of Wimbledon. In fact, so keen that we have installed not one, not two, but three artificial turf courts. From 2015 to 2017 we have been suppliers for the Wimbledon Championships.
HSBC and Wimbledon
Every year everyone knows HSBC are one of the main sponsors of Wimbledon and they love to put on a show for the tennis spectators. So, what better way but to have a high performing synthetic turf tennis court for everyone to use and practice their skills. Not only does this entertain everyone when the games are rained off, but it helps to encourage more people to take up tennis.
The STM Wimbledon Tennis Court Install
And that's why we were invited back to create a temporary green tennis court with white line markings that everyone could use throughout the tournament. The brand-new surface was created using high quality manufactured grass. This reflects the properties of natural grass making everyone feel like they're on centre court!
So we sent a team down who did us proud once again…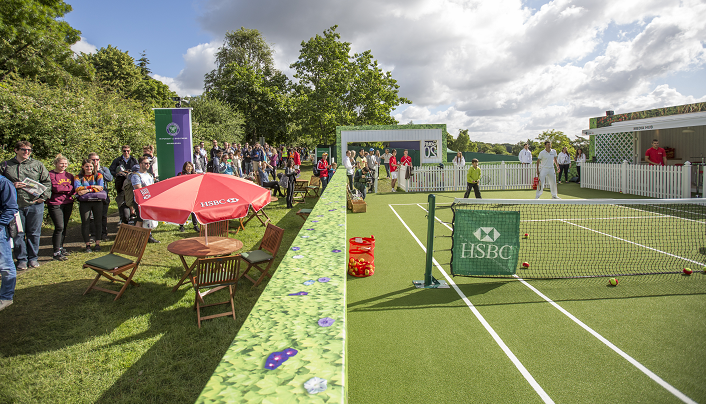 Photo accredited to HSBC Sport
Even though we are only on the second day of Wimbledon, we have already seen the likes of tennis professionals on the court. This includes none other than Judy Murray, mother of previous Wimbledon champion Andy Murray. Who was on Monday doing an interview with Sky News.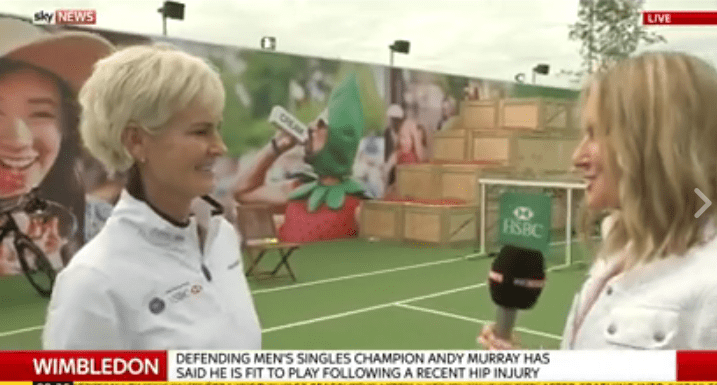 Photo accredited to Sky News
HSBC Sport describe our court installation below:
"Whilst you're waiting in the queue, come and play tennis on HSBC Court 20 for your chances to win prizes. Open to fans of all abilities, come and rally with your friends along with having opportunities to play against HSBC Tennis Legends throughout the tournament"
We can't wait to see who will be on the court next, watch this space.
And we sure hope to be back next year!