The complex world of artificial turf is indeed varied and packed full of facts, stories and fantastic applications. An insight into this unique and technologically advanced world is what we want to bring you today so that you'll find it easy to make a decision on whether this is the product for you.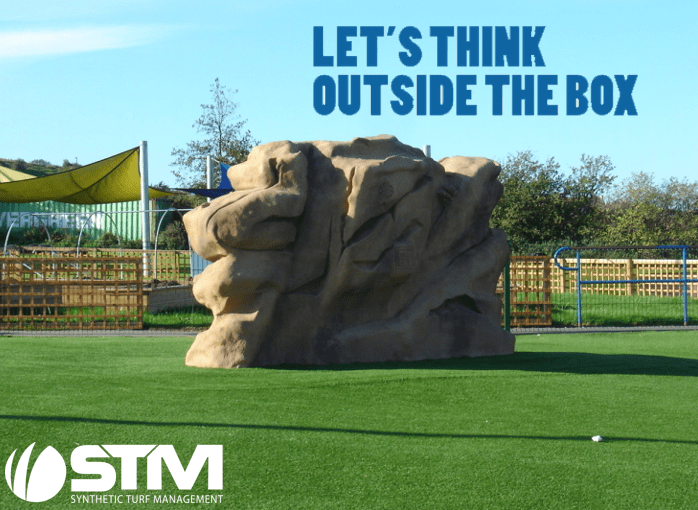 Are you wondering why everyone has it?
So you've been driving through the town and glance over to your left. There's a synthetic turf football pitch being used for a 5-a-side community team. You glance over to your right and there's a school with a vibrant colourful playground with children enjoying the play equipment, socialising and being active; it's a breath of fresh air seeing them outdoors, as opposed to them being glued to computer screens, you think to yourself. A little further down the road you see a restaurant with an outdoor seating area beautifully landscaped with a lush green grass… you have to look once, twice, three times before you realise that it couldn't possibly be natural grass... could it?
Finally, as you drive down your street, you're nearly home and you notice how healthy your neighbour's gardens are looking. How? With all of this wet and cold weather we have been having, they must spend hours on end mowing their lawns!
Its more popular than you think!
If you haven't sussed this out already, its artificial turf! More popular than you think and a choice for many different businesses, schools and even homeowners across the UK. Did you know that there are hundreds of countries that have already jumped on board? And believe it or not the UK is one of the last to implement this product! We know, we can't believe it either!
But why is it the chosen product?
Artificial turf can offer so much that other products simply cannot. It is a convenient option and great for those who want to cut back spending so much time pruning their surface. It also holds a number of different properties meaning it reaches a number of different safety standards. Our customers choose STM products because they have peace of mind knowing that our team are always on hand to help with any queries they may have, in addition to the warranties and guarantees that we offer… it really isn't an opportunity to be missed!
What can I do to find out more about artificial turf?
That's where we come in! At STM we are here to take your calls, emails and if you reach out to us on social media we are always on hand to help. We can provide free advice, measure ups, quotes and samples. Therefore, you can assess your options before coming to a complete decision. We want you to know that you're making the right decision.
How can I contact you?
Call: 01642 713 555
Email: info@stmworld.co.uk
Social Media: @SyntheticTurfManagement